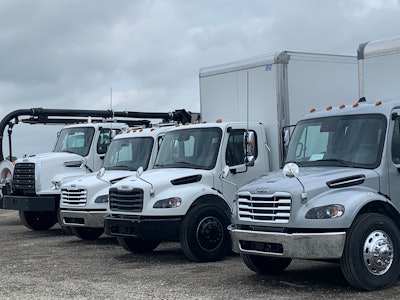 After seeing its on-highway siblings get refinement after refinement and update after update, Freightliner's M2 and SD models are getting their due.
Both models were on deck for a refresh but Covid put their debut on the post-pandemic back-burner. So, Freightliner next year will roll out its new Plus series – enhanced versions of its M2 and SD models, including the M2 106 Plus, M2 112 Plus, 108SD Plus and 114SD Plus. The M2 debuted in 2002 as a replacement to the FL Series and the SD followed in 2014. In the years since, the workhorse models have avoided noticeable design overhauls, and from the outside the Plus series doesn't really look like a redesign/update has taken place at all.
There are some subtle tweaks to the truck exterior. The grille louvers and air intake covers on the M2 have a notable Cascadianess about them, but other than that, the interior and tech get the most attention.
All-new interior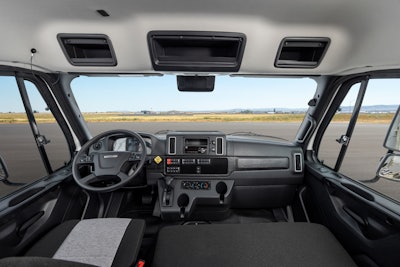 Attention to driver comfort is a design cornerstone of every on-highway tractor, but it's only recently gotten similar traction in the vocational and medium duty segments as heavy truck OEMs search for a more automotive feel.
"We're tying to make sure the driver comes right out of their pickup truck and goes right into that pickup truck type feel," Steve Mignardi, Daimler Truck North America vice president of on-highway market development said, noting the company is seeking a seamless transition from a driver's personal vehicle to their work truck.
I took Freightliner's pre-production Plus lineup through various courses at the American Center for Mobility in Detroit and, indeed, the interior of the new Plus series gets a very automotive focus in its search for that leap from pickup to commercial truck.
Enhancements include three new trim levels; from basic wipe and wash vinyl to plush and premium. Aaron Scates, Daimler Truck North America vocational segment strategy manager, noted the new interior materials focus on improved fit and finish and the "human/machine interface and operator experience." Basically, he said, it should be comfortable. The M2 Plus and SD Plus models are often just means to an end but the quest for drivers has put previously automotive-exclusive touches front and center in commercial transportation. A fixed seat and spring suspension just won't cut it anymore.
The driver's seat earns its "Plus" by adding a few extra inches of travel for shorter drivers. The steering column is also infinitely adjustable. It's really easy to get comfortable in the left front seat.
Fleet and driver feedback defined many of Plus Series' design enhancements, including the relocation of the power door lock and power window buttons from the dash panel to the doors themselves. This also cleaned up the switch panel, where there is now room for upwards of 32 controls – two-and-a-half times more space for truck equipment manufacturers to utilize. And all of the switches are within easy reach of the driver.
Freightliner has improved insulation in the cab, both muffling exterior noise and providing better thermal efficiency. I've often found medium duty models much louder inside than their heavy duty cousins, but with so much research put into cab noise and its influence in driver fatigue, that has changed for the better. The cab of all the Plus models that I drove were as quiet as anything you'd find on the road – commercial vehicle or passenger car.
A focus on automotive-quality fit and finish also contributes to a quieter cab as you lose all the familiar rattles and squeaks that come from ill-fitting plastic panels.
A driver-centric dash features an easy-to-read driver information center, which is also the home for the Advanced Driver Assistance System (ADAS) information, like following distance, lane keeping and such.
A comfortable leather-wrapped steering wheel features integrated controls, styling borrowed from Cascadia and a standard in the automotive industry.
Safety and technology
Like interior comfort, safety technology in the vocational segment previously wasn't a top of mind consideration, but that's changing too.
The Plus Series M2 and SD usher in a new era for Detroit Assurance Safety Systems and Connectivity, now available – for the first time – across Freightliner's entire vocational and medium-duty truck lineup. Certain Detroit Assurance features will also be available with a Cummins engine, another first.
When Detroit sunsets its DD5 and DD8 in the second half of this decade, Detroit Assurance will be Freightliner's big differentiator among medium duty/vocational trucks, because the powertrains in this segment – in many cases – are all the same. The Cummins B6.7 engine/Allison RDS transmission is becoming the ubiquitous medium duty powertrain, and that combination is among those offered by Freightliner in its forthcoming Plus series.
Standard selected safety features include Active Brake Assist, Lane Departure Warning and optional Side Guard Assist. Additional features like Adaptive Cruise Control, which automatically adjusts cruising speed to maintain a safe following distance, will become available with Plus series at the start of production in the second half of next year.
Both the M2 and SD spend much of their time navigating through crowds – either on the job site or on urban surface streets – so the addition of full braking on moving and stopped vehicles, and moving pedestrians and stopped pedestrians, is an added safety layer for everyone inside and outside the truck.
"Thinking about these guys right here that are operating in urban environments," said Greg Treinen, North America Vocational product marketing manager, "that's absolutely critical to have that full braking on moving pedestrians from a front of the cab perspective."
The system easily and predictably picked up a pedestrian along the passenger side of my truck, tracking them all the way to the rear bumper. When I activated the right-hand blinker, I got an audible warning letting me know it wasn't safe to move to the right. There was also a red indicator light in the right pillar and in the driver display. The audible warning was the third (and loudest) indicator. It works in the same manner for a vehicle running alongside.
The Detroit Connect Suite of Connectivity Systems delivers key vehicle information to empower better decision-making and reduce downtime. Virtual Technician remote diagnostic service informs fleets of the severity of the fault, and when, where and how to best fix the issue – a sequence of events that initiates within minutes of a fault. Remote updates use secure, over-the-air programming capabilities to adjust engine parameters and make other updates. Detroit Connect Analytics provide users with on-demand, automated analysis, identifying behaviors and trends, and providing actionable insights on fuel consumption and safety performance data. Safety Event Viewer enables visibility into driver safety performance, notifying fleets of collision mitigation events, showing the time, date and location of an event, plus the vehicle speed at the time of the event and duration of the event. This record keeping, standard with Detroit Assurance with Active Brake Assist, allows Detroit Connect users to monitor and track all critical events and take action to increase the safety of trucks on the road and job site.
Powertrain and transmission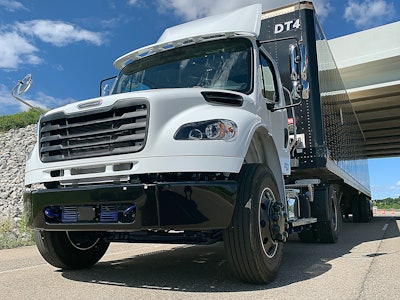 The M2 106 Plus comes standard with the Cummins B6.7 engine while the 108SD Plus is standard with Cummins' L9 engine. The M2 112 Plus and 114SD Plus get the DD13 Gen 5 engine and its new vocational power ratings, delivering up to 525 HP and 1850 lb-ft of torque. These ratings have additional power at the upper end of the RPM band and more torque at the low end compared to the prior generation DD13.
These powertrains have been around for years – in the case of Cummins' B Series, more than 40. I drove each of these configurations and, while the drives themselves were fairly short, there was ample torque and power.
Initially introduced with the Detroit DD15 Gen 5 engine, ThermoCoasting in the DD13 Gen 5 prevents aftertreatment cool down during a driving regen to keep the system at its optimum temperature and significantly reduces the need for parked regens, a particularly useful feature for stop-and-go vocational/urban applications.
Depending on truck model, the Cummins X12 diesel engine and the L9N and ISX12N natural gas-powered engines are also available.
For the first time, the Detroit DT12-V transmission – the vocational version of the DT12 – will be offered with the DD13. The DT12-V has different gear sets compared to the standard DT12, and the vocational spec is geared with deeper reduction, especially in the earlier gear ranges: first, second and third. An off-road mode manipulates how fast the clutch engages, precisely controlling the shift mechanism (to speed up the shift) and the shift duration to finely control it under load. Off-road mode allows the engine to rev to a higher RPM to minimize the overall number of gear shifts, because you want to shift as little as possible in sloppy terrain. I found that the DT12-V holds gears longer, and when it does have to shift, it does it faster so that I didn't lose torque when the shift happens.
Other baked in features of the DT12-V include Hill Start Aid, which guards against rolling back on steep grades, and Rock-Free Mode, which helps prevent wheel-stuck situations. Paver Mode allows a dump truck to shift from neutral to drive without pressing the brake pedal, ensuring a steady flow to the paving machine.
Eaton manual and automated manual transmissions, and Allison automatic transmissions, are also available in Plus series trucks.
Upfit efficiency
To ease the body upfit process, the Plus series includes Daimler Truck's QuickFit Electrical System. QuickFit delivers easier access to critical connection points, more power sources, programmable switches, customizable parameters, and interlock features, making upfits more flexible, more reliable and more durable.
The Daimler Truck North America CHEC (Custom Hardware and Electronics Configurator) Tool provides a user-friendly interface to view and modify electrical configurations and change parameters in minutes, keeping customization fast, seamless and efficient. With the power of QuickFit and CHEC Tool, tasks that were once complex, expensive or impossible can be accomplished more easily and efficiently.
With the introduction of the Plus series trucks, key electrical components were also relocated to provide improved isolation from external variables and road debris that can cause downtime.
Production of the Plus series will begin in the second half of 2023 in Mount Holly, N.C., and Santiago Tianguistenco, Mexico.