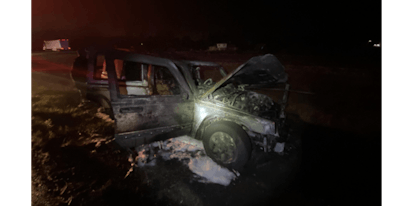 Indiana State Police
An Indiana woman is alive today thanks to the heroic efforts of two truck drivers who took the time to stop and free her from a fiery wreck.
According to Indiana State Police, Jasmine Meagher of Indianapolis was traveling on I-74 near mile marker 96 on July 7 around 1:11 a.m. when she veered off the road and collided with a guardrail.
Thankfully, 31-year-old Craig Gay, a driver at Quickway Carrier, had just gotten off work and was talking to his wife while driving home when he came across Meagher's Jeep in the median.
"I saw the fire under the vehicle so I thought that it had just happened. No one else was on scene," Gay told CCJ.
What he did next made all the difference. He grabbed his flashlight and left his vehicle to check on the burning SUV.
"I was still on the phone with my wife, and when I came up to the vehicle, I flashed my light through the windshield and saw someone sitting in the driver's seat so I went into action," Gay explained.
The former Marine called 911 and looked for a way to rescue Meagher whose driver-side door was pinned against the guardrail. As he made his way to the front passenger door, he saw the flames coming from under the Jeep were growing bigger, which meant he had to get Meagher out of there fast.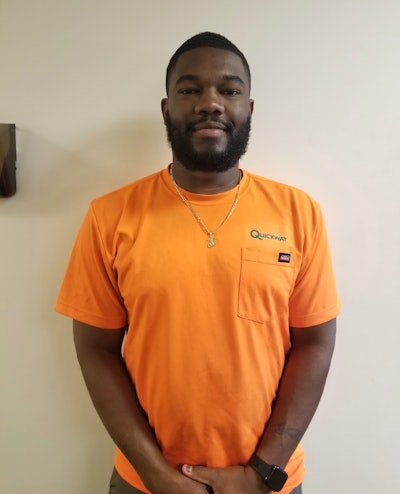 But first he needed a fire extinguisher and something to cut through Meagher's seatbelt so he began waving at oncoming traffic, but no one stopped.
"Being a truck driver, you see a lot of people that try and beat accidents so they don't get stuck behind it, so a lot of people just kept driving by me. No one would stop," Gay said.
But finally someone did. Truck driver John Goretskiy, who was pulling a load of cars, pulled over, and Gay took action.
"I was yelling at him, 'Hey, we need a fire extinguisher so we can get her out,'" he said.
Goretskiy rushed over with his fire extinguisher and began repelling the flames just as another motorist showed up and retrieved a pair of scissors for Gay. Cutting Meagher free, however, was only part of the battle.
"She was dazed. We were yelling at her, trying to get her out and she wouldn't move," Gay said. "So I just figured I had to get back in there to pull her out. So that's when I climbed back in the vehicle, and I got her out. Then [Goretskiy] helped me pick her up, and we crossed the highway to get her on the other side because the car was really starting to burn."
Gay covered Meagher with his jacket, and first responders showed up a few minutes later. Police said Meagher was conscious and alert when taken to the hospital. Gay was treated for smoke inhalation on scene.
Though neither Gay nor Goretskiy have been seeking credit for helping Meagher, Indiana State Police Sergeant Jon Caddell wanted to ensure their heroic actions did not go unrecognized.
"If it wasn't for these two men, we could be investigating a fatal crash this morning," Caddell said in a press release. "Their heroic actions and selfless response saved a life."
As for Gay, he went back to work like it was business as usual.
"He's super modest," said Jeff McCurry, Quickway's Indianapolis terminal manager. "He didn't say anything to anybody. If one of the other drivers hadn't read it online, we wouldn't have known anything about it."
Gay credits his life-saving action to his Marine Corps training along with his compulsion to help others.
"I don't want anything from it," he said. "I'm just happy that she's safe. Everybody's okay. And to me that's enough."
Editor's note: Attempts to contact Goretskiy and Meagher were unsuccessful by time of publication.