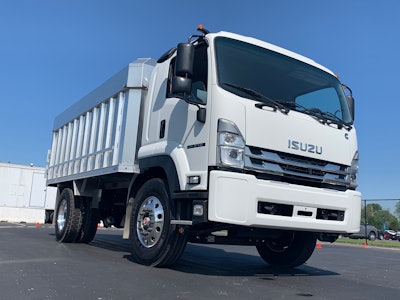 Isuzu added some bulk to its F-Series line for the 2022 model year with the introduction of the Class 7 FVR (33,000-lb. GVWR). The company's heaviest-ever model now sits alongside F-Series siblings the Class 6 FTR (25,950-lb. GVWR) and Class 6 FVR Derate (25,950-lb. GVWR).
Isuzu is after a larger slice of the trucking segment as the declining average length of haul and the search for CDL drivers has made straight trucks a more attractive and viable option for traditional motor carriers.
The new Isuzu F-Series line is powered by Cummins' B6.7 diesel engine and is matched to a six-speed Allison RDS transmission (2550 Series with park pawl for FTR, 2500 Series with no park pawl for FVR) – a powertrain that's become ubiquitous across the medium-duty commercial segment.
The B-series engine spec'd in the Isuzu is a byproduct of the Isuzu Cummins Powertrain Partnership (ICPP) that the two companies formed in 2019. The two companies are also working on an electric truck.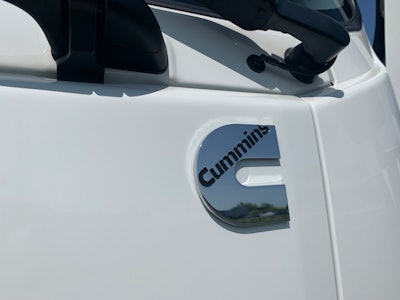 I was able to take Isuzu's new F-Series for a spin at Allison's Innovation Center, located in the shadows of Indianapolis Motor Speedway. While unlikely to put down the kind of lap-time that would impress the likes of Mario Andretti, there's much to like about the FTR and FVR.
The Cummins inline six-cylinder diesel engine, which replaces Isuzu's 5.2 liter in the FTR and above, produces 260 horsepower and 660 lb.-ft. of torque – a powerband that blends efficiency and power. The B6.7 is the most popular diesel engine ever built by Cummins, and its integration into F-Series marks the first time Isuzu has ever offered any engine other than its own in any of its models.
Strapped to the engine is Cummins' Single Module After-Treatment system that incorporates the diesel particulate filter, selective catalyst reduction, exhaust cooler and electronic exhaust restriction into a compact single-piece unit that keeps the frame rails clean.
With the driver's seat perched ahead of the axles, the cabover FTR and FVR each offer superb maneuverability and visibility, almost by default.
F-Series is available in eight wheelbases, from 152 to 248 inches, accommodating bodies from 14 to 30 feet in length. With a class-leading 50-degree inner wheel cut and turning diameters between 43.7 ft. (for 152-in. wheelbase models) and 65 ft. (for models with the 248-in. wheelbase), I had no trouble whipping the truck around a tight maneuverability course.
The longer cab-to-axle dimension afforded by the low cab forward design provides more cargo capacity versus conventional cabs with a comparable wheelbase, offering fleets more versatility with body applications to accommodate heavier or bulkier cargo loads.
F-Series is a crowded, urban, surface-street traffic fighter with no conventional nose to swing around tight corners, parked cars and pedestrians more engrossed in their smartphones than where they're walking.
Fleets wanting a technology backup for safety, Mobileye's passive system is available as an option – a system that incorporates forward collision warning, pedestrian collision warning, lane departure warning and headway monitoring and warning.
All models feature a new grille and a new, brighter LED headlamp design.
The interior gets a new look that features a dual-tone trim and seating that adds passenger comfort. For even more comfort, fleets can spec an air suspension that not only offers benefits to the driver, but also to carriers hauling fragile cargo or who need to lower chassis height while loading and unloading.
Also available is a touchscreen audio system – an Alpine iLX-407 – that provides 200 watts of sound and works with AppleCarPlay and AndroidAuto. It's also equipped with built-in Bluetooth, SiriusXM connectivity, an HDMI input, an HD Radio tuner, USB port and AUX input. A backup camera is also available with the system. The camera is reverse-linked and projects an image with guidelines on the display.
Neither the FTR and FVR are going to win the Indy 500 later this month, but with a payload of between 16,000 and 23,000 pounds (depending on spec), Isuzu is likely to earn more fleet business among carriers who are running more intra-region and local routes where cube and maneuverability are more important than max gross weight.