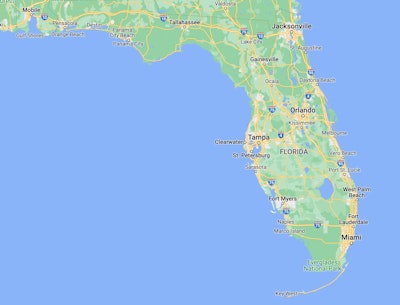 Google Maps
From the endless warehouse of Florida man stories comes a gator vs. truck tale from a driver who witnessed first-hand the power of this fearsome predator as it crossed a major street in South Florida and rushed his truck on three feet.
As you can see in the video below, the big gator didn't let a missing foot stop its mission of crossing Jacaranda Boulevard in Venice and seemingly targeting Daniel Kaufman's truck as he sat recording the unforgettable event last Thursday and later posted it on Facebook.
Maybe it didn't like being filmed without consent. Maybe it viewed Kaufman's GMC as a possible threat. After all, it is mating season and the colossal cayman was anxious to get to the other side of the road.
Whatever the reason, the gator ignored a SnapOn van across the median and made a beeline for Kaufman's truck. Once there, it hissed a curious objection and swaggered underneath where its unwanted inspection was clearly felt.
"He just moved my truck. Are you kidding me?" Kaufman said.
A Facebook user posted that the gator was after the truck's catalytic converter. More than likely it was pond d'amour. Kaufman stopped filming as the gator emerged from under his truck and appeared to be heading towards a retention pond with a tall fountain.
The Florida Fish and Wildlife Conservation Commission (FWC) warned that mating season will draw out males anxious to find a mate. Warmer weather also stirs up a gator's appetite.
"Alligators become more visible and active during spring and summer," said FWC spokesperson Tammy Sapp. "When temperatures rise, their metabolism increases, and they start seeking food. Florida has a healthy and stable alligator population, which is estimated at 1.3 million alligators of every size. Alligators occur in all 67 counties, inhabiting all wetlands where there's adequate food and shelter."
FWC advised steering clear of alligators which is not always easy particularly on dark roads.
Roughly three weeks ago, a 59-year-old South Florida driver died after striking an 11-foot gator around midnight on County Road 672 in Lithia, a Tampa suburb. The collision, which also killed the gator, caused the vehicle to flip several times. No street lights are posted along the rural road, according to fox13news.com.
Alligator mating season starts in April with courtship, FWC reports, and continues through May and June with mating.