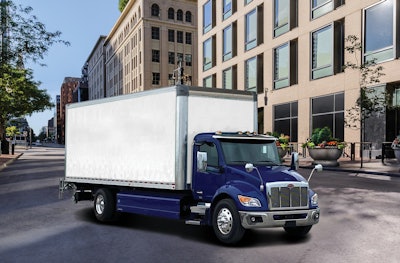 Peterbilt and Kenworth are adding the Cummins B6.7N natural gas engine as an option to their medium duty models: Peterbilt models 536 and 537 and the Kenworth T180, T280 and T380.
A 100% natural gas engine, featuring spark-ignited combustion with cooled EGR and a maintenance-free three-way catalyst, the B6.7N features a closed crankcase ventilation system and on-board diagnostics for optimal emissions performance.
The engine features a power range of 200 to 240 horsepower and 520-560 lb-ft torque. The near zero-emissions engine is certified to the California Air Resources Board's optional low NOx standard (0.02 g/bhp-hr), which is 90% lower than the current EPA standard.
Peterbilt introduced natural gas engines into its medium duty lineup in 2007 as an option on the Model 320. Today, three natural gas engine platforms are available in several Peterbilt truck models. Medium duty trucks can be configured with the B6.7N or the L9N, featuring 300-320 HP and 860-1,000 lb-ft torque. Heavy duty trucks, including the Model 520, Model 567 and Model 579, can be outfitted with the ISX12N and its 400 HP and 1,450 lb-ft of torque.