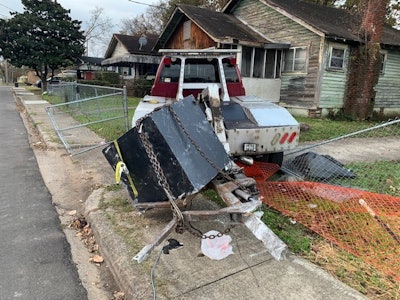 Birmingham Police Department
While it's safe to assume that tow trucks were never designed to be used in bank heists that certainly didn't stop some thieves from trying just the same.
Police in Birmingham, Ala. reported this week that a stolen tow truck was used to yank out the safe of an ATM early Tuesday morning from a PNC Bank located at 2901 2nd Avenue South.
Police said they were alerted to the ATM's tamper alert at around 3:47 a.m. and upon arriving at the bank saw a tow truck and black sedan flee the location.
The truck was later found in the front yard of a home in the Collegeville Community with the safe still chained to the lift. The suspects remain at large.
Anyone with information on the suspects is asked to contact the Birmingham Police Department Crimes Against Property Division at 205-254-1720 or Crime Stoppers at 205-254-7777.