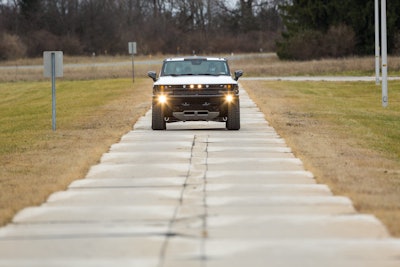 A Twitter comment posted by General Motors CEO Mary Barra condemning recent violence at the United States Capitol sparked a flood of responses from GM workers asking the CEO to keep their jobs intact at a recently shuttered GM factory in India.
Barra and other auto industry leaders took to Twitter last Wednesday denouncing the actions of protestors who forced their way past law enforcement, knocked down barriers, shattered windows and entered various parts of the Capitol including the floor of the Senate and House of Representatives where a certification process had been underway to confirm former U.S. Vice President Joe Biden as the next president of the United States.
A day packed with protests that turned to deadly rioting saw the deaths of four President Trump supporters and one police officer. Dozens of officers were reported injured. The dead include a U.S. Air Force veteran from San Diego who was shot and killed by police inside the Capitol. Three other Trump supporters died during what Washington D.C. Mayor Muriel Bowser called medical emergencies. A United States Capitol Police officer died after being injured by protestors according to Capitol Police.
Around 5 p.m. EST last Wednesday as law enforcement in D.C. worked to regain control of the Capitol, Barra Tweeted: "The peaceful transition of power is a cornerstone of American democracy, and regardless of politics the violence at the U.S. Capitol does not reflect who we are as a nation. It's imperative that we come together as a country and reinforce the values and ideals that unite us."
While the top comment under Barr's Tweet supported her statement, dozens of comments that followed asked the CEO to keep jobs in place at the recently closed Talegaon plant in New Delhi, the last of GM's plants to shut its doors in the country since the automaker announced a pull-out there in 2017.
A deal to sell the plant to Chinese automaker Great Wall stalled following an uptick in strained relations between India and China according to the Times of India. The plant, which closed in late December, employed roughly 1,800 workers.
Other Twitter users lauded Barra for denouncing the violence at D.C. including one who wrote, "Thank you for taking a position, Mary."
Too controversial?
Other titans in the auto industry who turned to Twitter to weigh in on the Capitol melee also encountered a mixed bag of responses.
While not issuing an official statement, Cummins Inc. did retweet the following comment from Business Roundtable which upset some Twitter users:
"The chaos unfolding in the nation's capital is the result of unlawful efforts to overturn the legitimate results of a democratic election. The country deserves better. Business Roundtable calls on the President and all relevant officials to put an end to the chaos and to facilitate the peaceful transition of power."
While some praised Cummins and Business Roundtable for posting the message, others contended that the Tweet was not strong enough.
"Rather than just Tweet, do something truly important and call for the Cabinet to invoke the 25th Amendment to protect our Democracy," one user posted. "Dictatorships are not good for business."
Another wrote: "This is pretty mild without calling out the political leaders who encouraged this. I think you know who they are."
Ford CEO Jim Farley also garnered praise and rebukes after posting this Tweet: "The Ford Motor Company condemns the violent and antidemocratic actions today. These were destructive acts against our shared principles and beliefs of a peaceful transition of power. We commit to working together, with respect and empathy, to uphold core American values…"
A top comment following Farley's Tweet that has since been removed stated:
"Stick to making great cars please. No need for your political stance. I'd really hate to have to start buying foreign cars…"
Another Twitter user criticized Farley for not denouncing violent protests that took place across the U.S. this past summer.
"As much as I agree with you on this, where was the Ford motor company condemning all the violence for black lives matter and antifa?"
Others cheered Farley including one Twitter user who wrote, "As a two-Ford family, thank you sir. And another wrote, "Nice work. Maybe I will order my Mach E after all."
Clearing the air
Navistar not only Tweeted their concerns about the violent uprising in D.C., but they also had to clarify that they are not affiliated with another company bearing a similar name whose former employee was caught storming the Capitol.
A Maryland man was fired from Navistar Direct Marketing after he was spotted breaching the Capitol while wearing a company badge. As headlines around the world emerged about the man and his employer, Navistar the truck manufacturer took to Twitter and pinned the following Tweet to set the record straight:
"Navistar is in no way affiliated with Navistar Direct Marketing, nor the conduct of its employees. Please see the statement below from Navistar CEO Persio Lisboa regarding yesterday's insurgency at the U.S. Capitol."
In a lengthy Tweet, Lisboa recalled becoming a U.S. citizen five years ago, denounced the Capitol breach and called for standing up against "persons and organizations that want to erode the foundations of our democracy."
Responses were mixed with one Twitter user posting "I smell a trademark suit! Lol" and another writing, "Thank you Navistar! I commend you for being a business with ethics. God bless you."