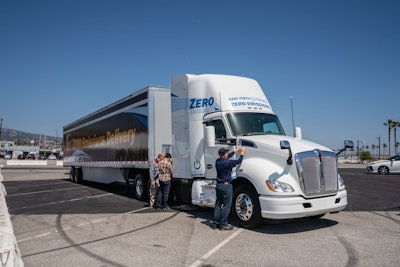 Oh, what a feeling!
Toyota confirmed this week that they're indeed developing a solid-state battery to be used in vehicle electrification. Compared to conventional lithium-ion, solid-state batteries are much lighter, more powerful, take up less space, charge faster, last longer and present much lower risks for flammability.
While Toyota understandably won't say much on the matter, they did offer the following statement:
Next-generation batteries, such as solid state and metal-air batteries, are safer and demonstrate higher performance than lithium-ion batteries. We are currently working on the research and development, including the production technology of solid-state batteries, and we have achieved ultra-small BEV driving. We are accelerating development aiming for commercialization by the first half of the 2020s.
No word yet on whether Toyota's truck division, Hino, will benefit directly from the company's solid-state batteries. Hino has used conventional lithium-ion batteries in its hybrid trucks.
Toyota joins Volkswagen-backed QuantumScape in making recent and noteworthy solid-state news. QuantumScape, a California based startup, reported recently that its solid-state design offers 80% more range than current lithium-ion cells, a 15-minute charge time and has a longer lifespan. The batteries also weigh less (they're virtually anode-free), take up less space and feature a solid, non-combustible separator.
Volkswagen recently announced that its truck arm, Traton, will be developing fuel cell trucks alongside Hino. Fuel cells are a type of electric powertrain that use onboard batteries to power motors while fuel cell generators provide electricity. Toyota, no stranger to truck electrification, has been busy working with Kenworth in Southern California on testing Class 8 fuel cell T-880s powered by fuel cells used in in the Toyota Mirai passenger car (see photo above).