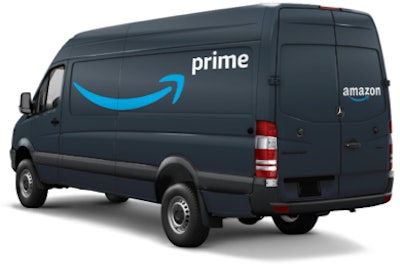 'Tis the season for vehicle thefts.
Though the National Insurance Crime Bureau reports that Christmas has the lowest number of vehicle thefts, days leading up to the present-filled event can still present plenty of risk especially for parcel delivery carriers.
In St. Paul, Minnesota thieves stole two Amazon delivery trucks over the weekend within 24 hours. Both trucks were loaded full of packages.
One driver was held at gunpoint and given the chilling option of either leaving his truck or losing his life, St. Paul Police Department spokesperson Steve Linders told kare11.com. So far no arrests have been reported.
In an earlier heist in the city, an Amazon delivery driver reported that his truck had been stolen during a delivery stop. The driver told police that he suspected that he had been followed by a dark-colored SUV.
A dark-colored SUV was later seen parked next to an Amazon delivery van where packages were being unloaded from the van to the SUV. A witness passed along the license plate number to police who later traced the SUV to the owner's residence where the stolen packages were recovered. One person was arrested.
Linders said vehicle thefts are up 15% this year in St. Paul. But there's hope that those thefts will be on a decline, at least on Christmas day, which according to the NICB sees the fewest number of stolen vehicles compared to 10 other holidays.
The data, pulled from the National Crime Information Center stolen vehicle file, shows that in 2019 there were 22,743 vehicles stolen on the 11 holidays studied below, a minimal decrease of 136 compared to 2018. Every day, there were 2,175 vehicles stolen across the nation on average.
To reduce the chance your vehicle is stolen, NICB recommends the following four layers of protection:
Common Sense — remove your keys from the ignition, lock your doors /close your windows, and park in a well-lit area.
Warning Device — the second layer of protection is a visible or audible device which alerts thieves that your vehicle is protected. These include alarms, steering column collars and locks, brake locks, and theft deterrent decals.
Immobilizing Device — the third layer of protection is a device which prevents thieves from bypassing your ignition and hot-wiring the vehicle. Some electronic devices have computer chips in ignition keys. Other devices inhibit the flow of electricity or fuel to the engine until a hidden switch or button is activated. Some examples are smart keys, fuse cut-offs, kill switches, starter, ignition, and fuel pump disablers, and wireless ignition authentication.
Tracking Device — the final layer of protection is a tracking device which emits a signal to police or a monitoring station when the vehicle is stolen. Tracking devices are very effective in helping authorities recover stolen vehicles. Some systems employ "telematics" which combine GPS and wireless technologies to allow remote monitoring of a vehicle. If the vehicle is moved, the system will alert the owner and the vehicle can be tracked via computer.
The NICB warns that trucks and delivery vans are often targeted for their high-dollar holiday loads.
"Yes, it is the season, and large trucks carrying product are often targeted because of what they carry," said NICB public affairs manager Tully Lehman. "An Amazon truck could be one such target."
NICB recommends that transportation companies take the following steps to guard against cargo theft:
Screen employees. Conduct a background check to screen all employees, including drivers, warehouse employees, and those with access to the shipping information.
Train employees. Provide security training for all employees making certain to educate truck drivers in hijack awareness and prevention. Training safeguards the employee, trailer, tractor, cargo, and customers.
Be smart in selecting transportation partners. Check partners before hiring. Make certain they share your security philosophy, such as conducting background checks and employee training.
Implement in-transit security measures. Cargo theft can be pre-planned or opportunistic. It could also include an inside informant who follows the truck ultimately leading to organized crime or fence to quickly dispose of the goods on the truck. Thieves will often wait outside known shipping facilities waiting for drivers to stop. A good practice is to not stop within the first 200 miles and park in known secure locations and avoid hot spots.
Keep a vigilant eye. Include counter-surveillance in the duties of your security guards. Trucks and cargo are most vulnerable to theft when sitting idle.
Take advantage of technology. Install alarm surveillance systems and respond to all alerts. Ensure the perimeter, entrances, building doors, and windows are well lit. Vehicle and cargo tracking, immobilizers, and advanced security seals are available.
Conduct audits. Conduct supply chain audits and look for gaps in shipment protection. Cargo criminals are always coming up with new ways to defeat security systems.
In what probably ranks as one of the biggest truck heists of 2020, thieves made off with $6.6 million worth of Apple devices about a week before Thanksgiving in central England. British police report that thieves tied up a truck driver and security guard before stealing the truck near the M1 motorway in Northamptonshire according to the economictimes.com.
The tractor-trailer was driven to another location where the trailer was hitched to another tractor. The load was then driven to another location several miles away where 48 pallets of Apple products were transferred to another trailer and driven to an unknown location. No arrests were reported.