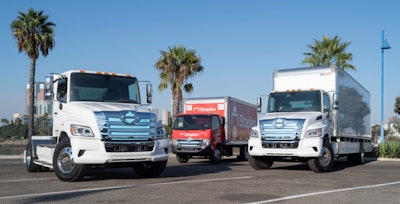 Hino on Monday became the latest trucking OEM to toss its hat into the electrified ring, leaping into a crowded green trucking field that already includes the likes of Freightliner, Volvo, and Paccar, among others.
Project Z, Hino's development path to zero emissions Class 4 through Class 8 trucks, leans on partnerships with technology leaders in advanced electrification drive systems. Hino itself is a subsidiary of Toyota.
Hino's Class 5 entry features a SEA Electric SEA-Drive 120a equipped on a Hino M5 chassis, and produces about 170 horsepower and 1,100 lb.-ft. of torque according to SEA Electric President Tony Fairweather.
The battery system doesn't require a thermal management system, Fairweather said, allowing components that do require cooling – like the motor – to use a smaller radiator equipped with a variable speed fan. The truck has demonstrated a range of 240 miles unloaded. In real-world testing with office supply company Staples the truck is getting about 150 miles of range when loaded to about 6,000 pounds, Fairweather said, under normal operating conditions.
On the heavier side of its lineup, Hino expects to offer various zero emissions solutions, including a Hino XL Series Class 8 tractor powered by Toyota's Fuel Cell system – the first partnership for the two companies in the U.S.
Toyota Research and Development Senior Executive Engineer Takehito Yokoo said he expects the first truck to be built "the first half of next year."
Toyota brought its first fuel cell Mirai passenger car to the U.S. in 2015, and has sold more than 6,000 units as of the end of last year.
Toyota three years ago kicked off a pilot with a Class 8 truck equipped with two Mirai fuel cell stacks, hauling freight from the ports and warehouses within the Los Angeles basin.
"Definitely it's not new technology, or definitely it's not future technology," he said. "It's today's technology."
On the battery side, Hino expects to feature a battery electric Class 7 tractor with Hexagon Purus' electric dual motor drive e-axle system (500 hp, 33,000 lb.-ft. torque), and a Hino XL Series Class 8 box truck powered by XOS' X-Pack battery and electric drive system.
XOS's (formerly Thor Trucks) X-Pack is a modular battery pack system that operates as an intelligent standalone unit and is monitored by proprietary XOS telematics and software. "The software is designed purposefully for the batteries," said Jose Castaneda, XOS vice president of business development. "It monitors battery health, battery performance, and in the unlikely event that there was ever an issue, we could identify which pack was having that issue, bring it in, service it and get it back on the road."
Each pack is air cooled, saving weight and cost. The truck is capable of a range of up to 250 miles, Castaneda said. That the X-Packs are modular, customers can spec more or fewer depending on the application's range demands.
For the battery electric vehicles, Hino is exploring both central drive motors and e-axles. Hino expects demonstration vehicles ready for deployment in the first half of 2021, customer demonstrations in 2022, and production before 2024.