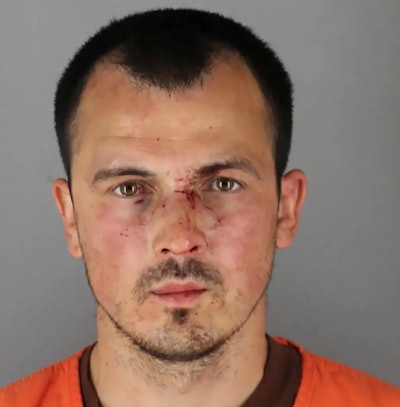 The Minnesota Department of Public Safety reported this week that it does not appear that a tanker truck driver intentionally drove his rig toward thousands of protestors that had unexpectedly gathered on Interstate 35 in Minneapolis on Sunday to protest the police-related death of Minneapolis resident George Floyd.
Minneapolis police arrested the driver, 35-year-old Bogdan Vechirko (shown above), an independent contractor with Kenan Advantage Group (No. 15 in CCJ Top 250), after he drove his tractor-trailer toward thousands of protestors who scrambled to get out of his path. No one was hit and after stopping his truck, Vechirko was pulled from his cab and beaten by angry protestors before being shielded by others in the crowd. Vechirko, who was never formally charged and was being held without bail, was released today.
In a video-recorded press conference released this week from the Minnesota governor's office, Minnesota Public Safety Commissioner John Harrington said an ongoing investigation has not revealed any evidence to suggest that Vechirko intended to drive towards the 5,000 to 7,000 protestors who, according to Harrington, had unexpectedly left nearby U.S. Bank Stadium and gathered on the westbound I-35 bridge near I-94.
"From what we can tell from our interviews we have not had any information that makes this seem like this was an intentional act," Harrington told reporters. "It wasn't that he went around the barricades to get to the protest. He knew the protest was going on but it doesn't appear he was driving to try and intersect the protest."
SEMI DRIVES INTO CROWD: No one was hurt after a man drove his semi truck into a crowd of protesters in Minnesota. Authorities have arrested 35-year-old Bogdan Vechirko's on assault charges. pic.twitter.com/lNHbER1sUY

— 8 News NOW (@8NewsNow) June 1, 2020
To help increase public safety during ongoing protests over Floyd's death, who died while being pinned under the knee of a Minneapolis police officer last week, Interstate 35 had been scheduled to be shut down at 8 p.m. Sunday to coincide with the city's curfew. Those plans changed when protestors at nearby U.S. Bank Stadium began heading towards the highway.
"We had been working that plan for that closure and that takes a bit of time to get that done," Harrington explained. "At about 4:30 p.m. yesterday (Sunday), as we were monitoring the group over at U.S. Bank and we started seeing that movement toward the freeway we asked Minn DOT, 'Can you lock it down now?' And Minn DOT said, 'As quick as we can, we will.' And they started the process of shutting down entrance ramps and things along those lines."
However, barricades had not yet been put in place when Vechirko drove by seemingly unaware of thousands of protestors on the road ahead, many of whom had gathered on the I-35 overpass. His view of the crowd also may have been limited given the incline of the highway as it approaches the bridge.
"From the traffic cams we know that the driver of the tanker truck was on the freeway already," Harrington explained. "He was on 94 already and he turned down 35 before we got barricades or trucks to block off his access to 35. We know that this was his second run of the day. He was running empty. There was no fuel in that tanker truck and this was his second run back."
Harrington said Vechirko had been speeding at around 70mph when he encountered protestors on the highway around 6 p.m.
"We do have information that he saw the crowd and initially, what it looks like, he panicked and he just kept barreling forward," Harrington said. "And then he described—this is what I'm hearing—a young woman on a bike fall down in front of him and he slammed on the brakes and he slid for a certain period of time until the vehicle stopped."
A protestor who worked alongside about ten others to protect Vechirko after he had been pulled from the truck and attacked by other protestors said that he didn't think Vechirko intended to hurt anyone.
"My intuition in that moment was that it was not intentional," Justin Goeman told fox9.com. "I think that if that was intentional, a lot of harm would have been done, could have been done. If he was trying to hurt somebody, he could have been moving a lot faster. It takes a long time to stop a semi."
Goeman said he received a text message while on the bridge at 4:58 p.m. that the highway was going to be shut down at 5 p.m.
"There's potential that he did not get that signal while driving," Goeman said.
Minnesota Governor Tim Walz took a different tact at the press conference and said Vechirko was lucky to have not been killed by an angry mob.
"As it turns out, and we'll see how this goes, I think somebody did something really stupid, got into a dangerous situation with people on the highway, feels incredibly lucky that he did not kill someone and is really lucky that Minnesotans showed their better angels and he did not get killed in this after he got pulled off," Walz told reporters.
Vechirko, who has still not been formally charged, was arrested shortly after the incident on suspicion of assault. He was released today. Hennepin County Attorney Mike Freeman said Vechirko's case had been deferred pending further investigation.
"Investigators are in the process of gathering additional information and answers to aid in the charging decision," Freeman said.
Another driver on the road at the same time as Vechirko told the Star Tribune that barriers had not yet been erected when protestors piled onto Interstate 35 on Sunday afternoon near U.S. Bank Stadium. "My car was surrounded by protesters. When a protester first approached me, there were no police, no barricades, no indication that 35 was closed," Meaghan Pezon said.
Kenan Advantage Group, North America's largest tank truck transporter and logistics provider, did not respond to an interview request and instead posted the following message on their website:
Our hearts go out to all those who are grieving the events of this past week. We have been informed of an incident involving one of our independent contractors in Minneapolis, MN during recent protests. Our first and foremost concern is for the safety and security of the public, our employees and our customers.
We will be cooperating fully with the investigating authorities in the days ahead. It would be inappropriate to comment at this time until we have additional facts as the investigation is in its early stages. We will comment further once we have more information.