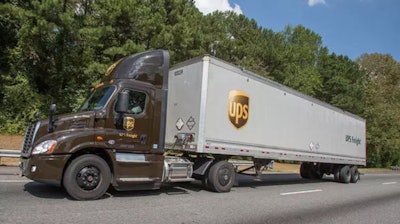 The Department of Labor announced last month it is fining the nation's largest carrier, UPS Freight, after an investigation revealed that managers allegedly retaliated against a truck driver who refused to drive a truck without an electronic logging device. UPS said it is contesting the fines because the situation has been resolved through other channels.
The DOL's Occupational Safety and Health Administration (OSHA) ordered UPS Freight to pay the driver $15,273 in compensatory damages, $30,000 in punitive damages and approximately $2,700 in back wages plus interest. OSHA alleged that UPS violated the Surface Transportation Assistance Act (STAA) by firing an unnamed driver based at the company's Londonderry, New Hampshire, facility in March 2019.
OSHA said the driver's supervisor was not trained on ELD requirements and that company managers attempted to coerce the driver into violating ELD regulations. The driver was allegedly fired for "gross insubordination" after he told his managers he wouldn't drive unless his truck was equipped with an ELD or a mounting device for a portable ELD. UPS later modified the termination to a suspension.
UPS issued a statement saying that it reported the driver's concern to the Federal Motor Carrier Safety Administration and reached a settlement with the agency, then worked with the local union to reinstate the driver without loss of pay. The company said it is contesting the situation with OSHA since it has already been resolved with FMCSA.
In addition to the fines, OSHA is requiring UPS to clear the driver's personnel file of any reference to the issues in this situation, post a notice informing employees of their whistleblower protections, refrain from firing or discriminating against employees who engage in STAA-protected activity, and not use a driver's refusal to drive because of a good faith concern that doing so would violate a FMCSR as a contributing factor in a termination decision.