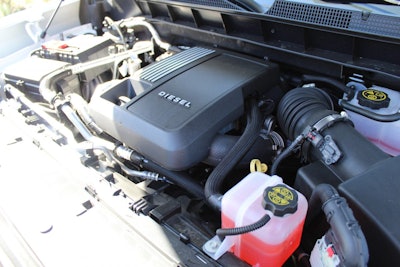 Written by Todd Dills, senior editor at HWT's sister publication, Overdrive.
New research released by the Diesel Technology Forum (DTF) shows the continued dominance of diesel power among commercial vehicles operating today on American roads. Three fourths of all commercial vehicles registered in the United States are powered by the fuel.
A state-by-state and regional analysis, too, shows some evidence that California's in-use Truck & Bus Rule's rolling deadlines have created what DTF executive director Allen Schaeffer dubs something of a "perverse incentive" not to upgrade to current technology, ever increasing in efficiency and thus emitting less and less volume of greenhouse gases and other emissions, such as the particulates and nitrogen oxides that once were a big part of diesel exhaust.
No more. Beginning with engines' 2010 model year, diesels have been equipped with selective catalytic reduction (SCR) and particulate control technologies. These combine to achieve U.S. Environmental Protection Agency (EPA) emissions requirements for NOx emissions of no more than 0.20 grams per brake horsepower hour. This is in addition to particulate emissions requirements of no more than 0.01 g/BHP-hr.
Current emissions technology is present in nearly half of all registered commercial vehicles today, DTF's new research revealed — 43% of the commercial fleet is using new-generation, post-2010 technology, representing a 6.8% increase over the same time last year.
A webinar conducted around the research October 22 included a state-by-state analysis, too, of the distribution of post-2010 engines among registered commercial vehicles. The state of Indiana showed the largest concentration of such diesels, with 65% of the registered fleet there operating post-2010 tech.
California and the entire Western region, meanwhile, were laggards among states. California's registered fleet showed just 35% of all trucks running 2010 or newer engine technology (Washington: 39%, Oregon: 43%, Idaho: 37%, Nevada: 41%, Arizona: 32%).
That's in spite of large-market California and its Air Resources Board's required retirement of pre-2007 engine emissions technology in its Statewide Truck & Bus Rule, with a final deadline for all trucks and buses to be powered by post-2010 engines by year 2023. During the Q&A on the webinar, DTF Executive Director Allen Schaeffer said CARB's deadlines, he believed, had created what he called something of a "perverse incentive" for truck owners at this point not to upgrade their fleets, even as post-2010 engines have improved year by year in fuel efficiency.
"The Truck and Bus Rule has set up a situation that has fundamentally altered the market for new-technology trucks," Schaeffer said. "The net result is that Californians are being denied the benefit of newer technologies due to the perverse incentive put in place by the Air Resources Board. These are benefits that are accruing now."
Chiefly, with gains in fuel mileage, emissions reductions follow. Casey Selecman, with the IHS Markit advisory services group, noted that the adoption of selective catalytic reduction to meet EPA 2010 emissions requirements drove "downsizing engines and increasing power density, driving more efficiency from the combustion event than we've ever seen before."
A typical Class 8 truck, which used to average 6.2-6.4 mpg fuel mileage, might "now run 10 or close to 10 mpg" in testing with newer engines and other vehicle improvements, said Selecman. "All of these technologies are helping improve efficiencies and radically reduce CO2," particulates and NOx. "Emissions rates for Class 4-8 trucks have fallen by 90 percent compared to 2007."
With research built to show projections to 2030, Selecman noted such improved would continue and diesel among Class 4-8 trucks was very likely to remain the principal fuel for 80 percent of trucks in the market.
Schaeffer emphasized that, though new fuels and technologies that serve as potential alternatives to diesel will play a growing role in the future, "we can't hit the pause button on [diesel] progress today. These new findings reinforce the importance of the new generation of diesel in delivering vital societal benefits today in the here-and-now. No technology is as vitally important to achieving current and future goals as advanced technology diesel engines."