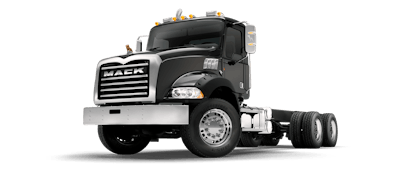 Six United Automotive Workers chapters representing more than 3,500 Mack Trucks employees at five of the company's plants went on strike Saturday night to push for better pay, benefits and more in their next contract.
Mack President Martin Weissburg said in a statement the company is surprised UAW decided to strike.
"We are surprised and disappointed that the UAW decided to strike, rather than to allow our employees to keep building trucks and engines while the parties continued to negotiate," Weissburg said. "The positive working relationship between local UAW leadership and management at our facilities was clearly in evidence throughout the negotiations, and progress was being made."
A press release from United Auto Workers states the workers are striking for wage increases, job security, cost-of-living adjustments, wage progression, skilled trades, shift premium, holiday schedules, work schedules, health and safety, seniority, pension, 401(k), healthcare and prescription drug coverage, overtime, subcontracting and temporary/supplemental workers.
"UAW members get up every day and put in long, hard hours of work from designing to building Mack trucks," said Ray Curry, secretary-treasurer of the UAW and director of the Heavy Truck Department. "UAW members carry on their shoulders the profits of Mack, and they are simply asking for dignity, fair pay and job protections."
Workers are striking at the following Mack plants: Allentown, Pennsylvania; Middletown, Pennsylvania; Hagerstown, Maryland; Baltimore, Maryland; and Jacksonville, Florida.
Mack is part of the Volvo Group, which also includes Volvo Trucks North America. Chris Heffner, manager of public relations for Mack Trucks, said that while no Volvo trucks are built at the five Mack facilities, the Hagerstown, Maryland, location supplies engines and transmissions to Volvo's North River Valley Plant in Dublin, Virginia. Heffner added that if the strike continues, Volvo truck production could be affected in addition to Mack truck production.
Weissman noted that Volvo Group is the only heavy-duty truck manufacturing group that assembles all of its trucks and engines for the North American market in the United States and has "no plans to close any U.S. manufacturing."
"On the contrary, we've invested more than $400 million in our plants and logistics network over the last 10 years, and since 2015 have insourced work that has created more than 500 jobs in our U.S. factories," Weissburg added. "We have significant new investments in both facilities and products on the way."
The strike by Mack employees comes in the midst of a nearly month-long strike by General Motors employees that began Sept. 16 and is still ongoing.