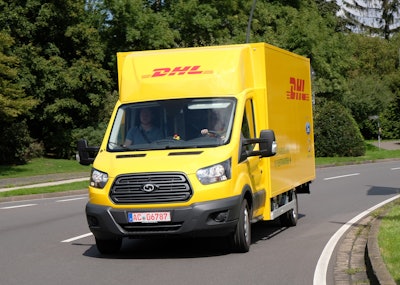 Amazon has yet to receive its 100,000 electric vans from Rivan which makes the Deutsche Post DHL Group quite possibly the largest electric van fleet in the world.
The German-based delivery giant has more than 9,000 electric StreetScooters on the road, and given their success, is planning to launch an additional 6,000 vans by the end of the year.
The vans have racked up roughly 47 million miles and are proudly marked as CO2 reducers enabled by electric power. By July the vans had already reduced 32,000 tons of CO2.
DHL has three models, two of which they manufacture themselves—the StreetScooter Work and Work L. The third one, the StreetScooter Work XL, is co-produced with Ford on the Transit chassis (shown above).
"Our customers appreciate that Deutsche Post DHL Group, as the owner of StreetScooter, delivers mail and parcels in an eco-friendly way," said DHL spokesperson Alexander Edenhofer. "Also, third party customers who bought StreetScooter e-vehicles report that this move is good both from a PR and business perspective."
Yes, DHL also sells its vans. Sales are growing in Europe and are picking up in Japan. When asked about expanding into the U.S., Edenhofer said the company is evaluating other markets but has no further plans at this time.
Depending on the vehicle's battery size, a full charge can take four to eight hours with an 11kW charger. Thus far, charging infrastructure has not been an issue.
"We check prior to the installation the maximum of available power per hub and control the charge of the vehicles in order not to exceed the given limits," Edenhofer said. "Additionally we can install and control stationary batteries to enhance the limits and install more electric vehicles at the hub."
Range limitations are also put in place. The StreetScooter Work XL has a range up to 124 miles but is intentionally set to 50 miles because most delivery routes are typically limited to 18 to 25 miles. The Work and Work L models have a range of up to 100 miles.
Max payload varies between the models with the Work version handling up to 1,587 pounds, Work L up to 1,995 pounds, and Work XL up to 2,810 pounds.
DHL has over 450 service partners throughout Germany that handle maintenance and repair work. Technicians have additional training that qualifies them to work on electric vehicles and have been specially trained to carry out repair work on DHL's electric vehicles. Maintenance demands have dropped compared to conventional diesel models and the total cost of ownership is roughly the same even with charging infrastructure costs.
While hot and cold climates can impact the range of electric vehicles, DHL said that's not been an issue with their electric fleet.
"We did not have major problems in cold and hot weather," Edenhofer said. "Even in the hard winter in the region of Bavaria with lots of snow and temperatures of -10° over many weeks, the StreetScooters performed well."