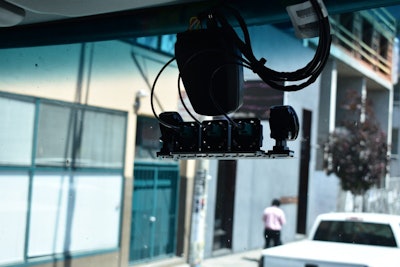 Anthony Levandowski, co-founder of autonomous truck upstart Pronto, has been indicted on 33 counts of theft and attempted theft of trade secrets.
Levandowski, a former Google executive, left the tech giant in 2016 to found autonomous truck company Otto – which was later acquired by Uber – and set off a multimillion-dollar intellectual property lawsuit. That case was settled just days into trial early last year.
The federal charges unsealed Tuesday mirror those levied by Waymo, a subsidiary of Google parent company Alphabet, that claim Levandowski, a then-Google engineer and one of the founding members of the group that worked on Google's self-driving car project, stole thousands of files that became the cornerstone of Otto's LiDAR truck tech.
"The files downloaded included circuit board schematics, instructions for installing and testing LiDAR and an internal tracking document," the indictment reads. "The indictment also alleges that at the time he took the files, Levandowski was involved with two companies competing with Google in the self-driving space: Tyto LiDAR LLC and 280 Systems, Inc., the latter of which would become Ottomotto. Ottomotto acquired Tyto in May 2016, shortly after Uber Technologies, Inc. agreed to acquire Ottomotto and hire Levandowski."
Despite early success, Uber shuttered Otto and its self-driving truck aspirations more than a year ago, formally shifting the engineers from that project to its self-driving car initiatives and its trucking attentions to Uber Freight.
Levandowski bounced back in trucking last year with Pronto, a company that has developed a Level II self-driving system for Class 8 tractors that offers braking, acceleration and steering capabilities. Similar to a suite of autonomous features available on passenger cars, Pronto's CoPilot is designed to making truck driving safer and more efficient.
In light of Levandowski latest legal entanglement, Pronto says it is elevating Chief Safety Officer Robbie Miller to the role of CEO.
"Robbie is an experienced and respected autonomous vehicle industry veteran," Pronto said via release emailed to CCJ. "Under his leadership, we will continue to deliver on our mission of bringing a new layer of safety to commercial trucking."
The criminal charges filed against Levandowski, Pronto noted, relate exclusively to the use of LiDAR, which has not been deployed by the company.
"Of course, we are fully supportive of Anthony and his family during this period," the statement continued. "Pronto is a pioneer in the AV space. Our CoPilot product is industry-defining and meaningfully improves safety for all highway users. Pronto's talented team remains devoted to our customers and partners and we are all fully committed to maintaining the momentum we have built over the past year.