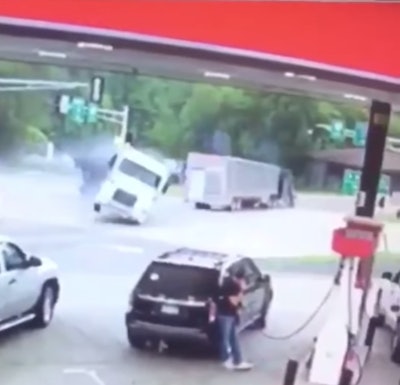 A driver was lucky to walk away from a crash this week in Taylors Falls, Minn. after the brakes on his tractor-trailer reportedly failed and sent him careening down a steep road into a gas station.
Minnesota state troopers report that 49-year-old Aleksandar Djordjevic was wearing a seat belt when his truck overturned and slammed into a concrete pillar close to vehicles that were fueling up at gas pumps Monday near the intersection of Highway 8 and Highway 95. Witnesses said that Djordjevic freed himself from the 2000 Volvo tractor.
Djordjevic, who troopers say may have been injured, was cited for duty to drive with due care. The crash remains under investigation. No other injuries were reported. Djordjevic told troopers that his brakes had failed as he was driving down Highway 8 into Taylors Falls. He said he was able to swerve around vehicles and was trying to turn right onto Highway 95 when the truck rolled and slammed into the pillar.