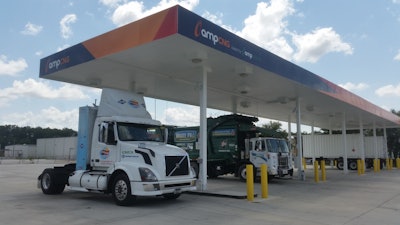 Amp Americas announced that a growing demand for natural gas prompted the company to sell its ampCNG fueling stations so that it could concentrate on producing more renewable natural gas.
The $41 million sale of 20 of its compressed natural gas (CNG) stations to American Natural Gas will allow Amp to invest more in RNG projects which includes breaking ground on two additional dairy biogas plants later this year. Amp will continue to own and operate its landmark Indiana biogas operations through its Renewable Dairy Fuels (RDF) business unit.
"Low Carbon Fuel Standards in California and Oregon and the national Renewable Fuel Standard have created a massive growing demand in CNG/RNG," said Grant Zimmerman, CEO of Amp Americas. "We're seeing renewed interest and activity by fleets as a direct result."
Amp processes methane from dairy farms into fuel-ready renewable natural gas. Since methane is regarded as a much more potent greenhouse gas than carbon dioxide or other gases, the California Air Resources Board (CARB) gave Amp's renewable natural gas a carbon intensity (CI) score of -255, the lowest by far of any fuel including electric which has a CI score of +35.
Nonetheless, government subsidies stemming not only from California but the more recent $14.7 billion Volkswagen Dieselgate settlement, have left some alt fuel leaders like Grant wondering about emissions priorities.
"The VW funding seems to be going disproportionately to electric despite the fact that on a dollar for dollar basis it's far less efficient than CNG in improving air quality, and much less beneficial to climate than RNG fueled trucks," Grant said.