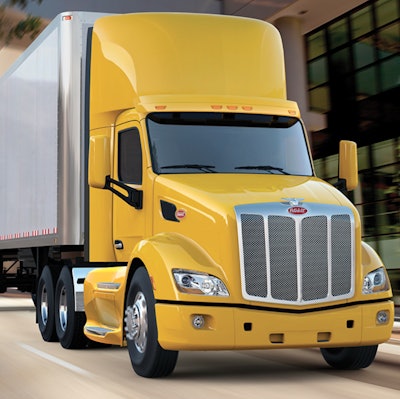 Achates Power announced that it has achieved ultra-low emissions with its 10.6-liter two-stroke diesel.
The opposed-piston engine reached an ultra-low NOx standard of .02 g/bhp-hr in the company's San Diego-based lab and will enter a fleet testing phase early next year with Tyson Foods and Walmart in California.
In addition to its ultra-low NOx level, Achates reports that the engine's CO2 emissions are up to 15 to 20 percent below the greenhouse gas requirement.
Opposed-piston technology requires Achates to use only three cylinders in the combustion process. Combine that with its two-stroke capability and the engine sheds weight thanks to the absence of a valve train.
Last year, former Achates CEO David Johnson told Hard Working Trucks that his company had overcome emissions issues that have long since hindered two-stroke diesels.
"We focused on it," said Johnson, who went on to lead Cummins-Westport in January. "We bought the necessary equipment, we invested in the necessary hardware and development and analysis and we basically, I would say, cracked the code with respect to how to make an opposed piston engine—two-stroke engine—clean and efficient in combination. Not a trade-off between one and the other, but you can actually have this significant improvement in efficiency while achieving next generation and future emissions standards."
The California Air Resources Board (CARB) and several air districts are funding the pilot which is expected to begin in the first quarter of 2020. Tyson and Walmart will each receive a Peterbilt 579 equipped with an Achates 10.6-liter diesel.
Achates is currently leading a project team consisting of Aramco Services, BASF, Corning, Dana, Delphi, Eaton, Faurecia, Federal Mogul, Honeywell, Litens and Federal Mogul, along with the Southwest Research Institute. CALSTART is managing the project and will collect and analyze emissions and performance data.
"This project challenges conventional wisdom in the industry: that ultralow NOx can be combined with ultra-high efficiency in a diesel engine," said Bill Van Amburg, executive vice president, CALSTART. "This impressive team is showing that you can significantly improve air quality while also making progress on climate change. We can and must do both. Success in this project will support widespread commercial adoption of the ultralow NOx standard in Class 7 and 8 trucks, which will support CARB's – and the world's – air quality and environmental goals."