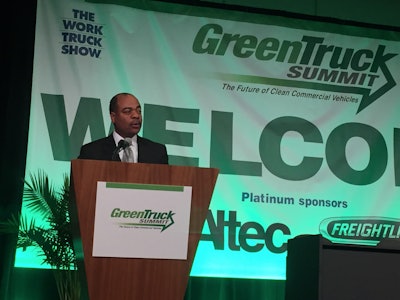 Carlton Rose, UPS president of global fleet maintenance & engineering, is sure that all-electric powertrains are the future.
Getting there, however, will take some work.
By Rose's own admission, UPS has 1,000 electric vehicles versus 6,000 natural gas trucks that are running over 1 million miles a day. UPS has also had some challenges with EVs.
"Range has been an issue," said Rose, the keynote speaker at the Green Truck Summit at The Work Truck Show today in Indianapolis. "If you have a vehicle that will only go 100 miles, a delivery driver can't go out 51 miles. Commercial electric trucks are still a work in progress."
UPS is certainly no stranger to electric powertrains. Their on-road use of EVs can be traced back to the 1930s. Range was an issue then, too, but it's been dramatically improved as EVs progressed from lead-acid battery technology of that time to higher performing battery chemistries, namely lithium-ion.
"Recent advancements in battery tech have made it possible to perform in certain segments that fit within our needs," Rose said.
The interest in electric at UPS comes from concern with increased carbon emissions which Rose points out is owed to increased commerce and urbanization. Online, or ecommerce, purchases have increased steadily by 12 percent annually which leads to increased commerce-related traffic and increased emissions. Cities continue to grow with 68 percent of the U.S. population expected to live in urban areas by 2050, according to Rose. The end result is more pollution in more densely populated areas which Rose believes can be best addressed with electric powertrains.
"The way of the future is electric," Rose said, but he's also mindful that businesses like UPS require practical solutions that can pencil out.
"If the technology doesn't work it doesn't matter what it costs or what subsidies are in place," he said.
Lack of range and charging infrastructure remain major hurdles to EV adoption. And as Michael Berube, acting deputy assistant secretary of sustainable transportation energy efficiency and renewable energy for the U.S. Department of Energy, made clear, battery recycling is another major issue that needs to be addressed—and not just from the standpoint of inefficiency regarding the reclamation of materials.
"About 90 percent of the cost is in gathering, collecting and safely transporting the batteries," Berube said.
Despite the challenges, EVs continue to roll out and gain more favor among consumers, something that fleets are certainly watching. Just today, Nissan announced that its all-electric Leaf became the first electric car in history to surpass 400,000 sales.