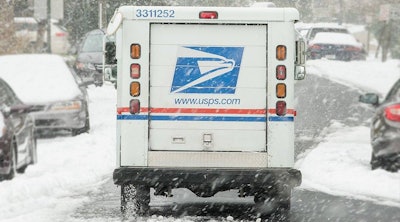 The United States Postal Service announced tonight that it will be suspending delivery services in certain areas forecast to be impacted by severe winter weather brought on by Winter Storm Jaden.
The Weather Channel, which names winter storms (NOAA does not), called Jaden "the coldest arctic outbreak in a generation." Extremely low wind chill temperatures of -60 degrees Fahrenheit have been forecast for some areas in the northern part of the U.S. Some midwestern cities are expected to be colder than Antarctica. Record-breaking lows have been forecast as far south as Florida.
In response to the polar vortex, USPS issued the following statement tonight at 10 p.m. EST.
Weather forecasters are warning of dangerously cold conditions in parts of the nation. Some places could see wind chill readings as low as 60 below zero. Due to this arctic outbreak and concerns for the safety of USPS employees, the Postal Service is suspending delivery Jan. 30 in the following 3-digit ZIP Code locations:
Michigan: 486-491, 493-499
Indiana: 460-469, 472-475, 478, 479
Chicago: 606-608
Lakeland: 530-532, 534, 535, 537-539, 541-545, 549, 600, 602, 601, 611
Detroit: 480-485, 492
Central Illinois: 601, 603 – 605, 609, 613, 614, 616, 617
Northern Ohio (Cleveland and Lima areas): 441, 458
Ohio Valley (Cincinnati and Columbus areas): 452, 430-432
Western Pennsylvania: (Erie and Bradford areas): 165, 169-177, 188
Northland: 540, 546-548, 550, 551, 553-564, 566
Hawkeye: 500-514, 520-528, 612
Dakotas: 580-588, 570-577
Eastern Nebraska: 680-689
We will provide additional information when it becomes available.
As of 11 p.m. EST tonight no notices for service interruptions were found posted by UPS, FedEx or DHL. Requests were left on UPS' and FedEx's Facebook pages asking the companies to hold off on making deliveries during the extremely cold weather. Two examples are posted below.
WC MN we're dealing w/some limited visibility in the open areas. Remember to turn those headlights & taillights ON and #MoveOver for those on the shoulder. This area was I-94 about 10 miles east of Moorhead. Road info https://t.co/UtVIO3kuBr pic.twitter.com/yZG4NRC5Th

— Sgt. Jesse Grabow (@MSPPIO_NW) January 29, 2019