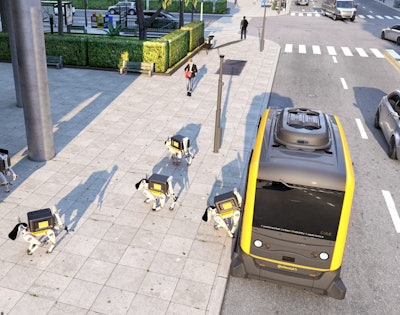 Continental joined the fray of autonomous and robotic concepts at the 2019 Consumer Electronics Show with the Continental Urban Mobility Experience (CUbE), a last-mile driverless vehicle that can be used to stage and deploy delivery robots capable of delivering packages all the way to the consumer's front door step.
Unlike four-wheeled robotic package delivery concepts, Continental's solution employs Anybotic's quadruped robots that can navigate over and around obstacles on sidewalks, walk up front porch steps and even ring the customer's doorbell.
"With the help of robot delivery, Continental's vision for seamless mobility can extend right to your doorstep. Our vision of cascaded robot delivery leverages a driverless vehicle to carry delivery robots, creating an efficient transport team," said Ralph Lauxmann, head of systems & technology for Continental's Chassis & Safety division. "Both are electrified, both are autonomous, and in principle, both can be based on the same scalable technology portfolio. These synergies create an exciting potential for holistic delivery concepts using similar solutions for different platforms. Beyond this technology foundation, it's reasonable to expect a whole value chain to develop in this area."
Continental believes the concept will be important as the growth in e-commerce continues and delivery costs per hour rise. The CUbE doubles as a robo-taxi to move people around urban centers when not being used for delivery applications to reduce idle times.
"There will be peaks in demand for driverless vehicles during the day. To make use of driverless vehicles outside those peak 'rush' hours is where robot-delivery comes in," said Jeremy McClain, director of systems & technology, Continental North America. "We see great potential in our automotive technology to support robotics companies in developing autonomous delivery robots as an additional use case for driverless vehicles."
Written by Aaron Huff, senior editor at Commercial Carrier Journal, a partner publication of Hard Working Trucks.