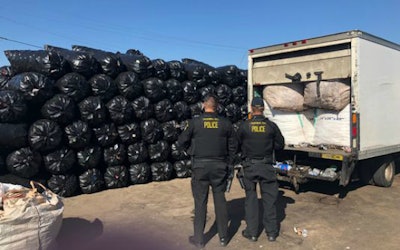 The California Department of Resources Recycling and Recovery announced Dec. 3 it uncovered a $16 million recycling fraud ring, leading to the arrest of a trucking company owner, truck driver, and broker.
Following a five-month investigation, the California Department of Justice Recycling Fraud team seized 27,860 pounds of empty beverage containers from a collection yard in Phoenix, Arizona.
CalRecycle says agents believe the owner of Bustillos Trucking operated his company for the sole purpose of smuggling out-of-state containers into California to defraud the California Redemption Value fund.
Trucking company owner Miguel Bustillos, truck driver Anthony Sanches and broker Amaury Avila-Medina were arrested in the case. All three face charges of felony recycling fraud, attempted grand theft and conspiracy.
Agents believe the three men are responsible for defrauding $16.1 million from the California Redemption Value fund over the past three years.
This story first appeared in Truckers News, a partner publication of Hard Working Trucks.