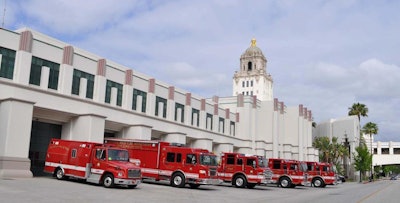 Renewable diesel, a synthetic fuel similar to biodiesel, got a big thumbs up this week from the City of Beverly Hills, Calif.
City fleet manager Craig Crowder, who first started using Neste MY Renewable Diesel in 2013, reported that the fuel has brought about better performance, reduced maintenance and fewer emissions when compared to ultra low sulfur diesel (ULSD).
"After switching to Neste MY, we noticed that our fuel systems were very clean, even cleaner than they had been while using ULSD," Crowder said. "Our DPFs (diesel particulate filters) were performing better, and annual maintenance was simple and efficient. Our trucks had improved performance, better power and less smoke emission."
Neste describes MY Renewable Diesel as a low-carbon fuel produced from 100 percent renewable and sustainable raw materials, primarily wastes and residues.
"The premium diesel cuts greenhouse gas emissions by up to 80 percent, reduces carbon monoxide by 24 percent and fine particulates by 33 percent, all while enhancing fleet performance," Neste reports.
Crowder's fleet of 445 vehicles includes fire and garbage trucks. Though renewable diesel can be mixed with either bio or convention diesel, Crowder prefers using 100 percent renewable diesel. However, he admits to being somewhat concerned when first making the switch five years ago.
"We have a lot of different types of vehicles," said Crowder, who has been with the City of Beverly Hills for more than 25 years. "My biggest concern with switching fuel types was the transition and what accommodations would have to be made. Thankfully, with Neste MY Renewable Diesel, it was a drop-in product that required no change in infrastructure."
Renewable diesel is not biodiesel. The two fuels are derived from some of the same plant and animal fat sources, but it's how those feedstocks are processed that makes all the difference.
Biodiesel is processed through transesterification, a chemical reaction that occurs usually through the introduction of an acid or base substance which renders the biomass liquid into an oxygenated, combustible fuel.
Neste, the world's largest producer of renewable diesel, uses a patented hydrogenolysis process to transform that same biomass liquid into fuel. It's also known as hydrotreating in the petroleum industry.
Neste MY Renewable Diesel is available to public and private fleets in California through authorized distributors. IPC (USA), Inc., is a wholly owned subsidiary of Itochu Corporation, headquartered in Santa Ana, Calif., and is the exclusive distributor in southern California for Neste MY Renewable Diesel to the City of Beverly Hills. IPC is also a wholesale fuel distributor of other products serving public and private sector businesses throughout the entire U.S.