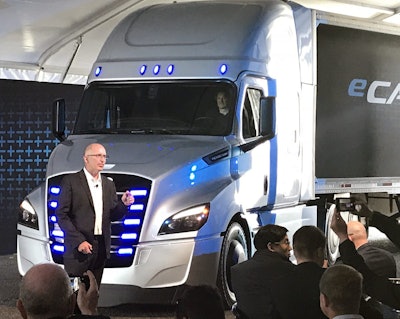 Customer interest in electric commercial vehicles is happening quicker than expected, but Roger Nielsen, president and CEO of Daimler Trucks North America, said DTNA will continue its efforts to dominate the electric commercial vehicle space in North America.
"In 2020 we'll have the highest number of [electric] vehicles on the road in trucking segment," said Nielsen during a press roundtable at the American Trucking Associations' 2018 Management Conference & Exhibition in Austin, Texas. "We are trying to get the most experience as quick as we can," adding that the OEM that can provide a durable, reliable vehicle with batteries that have the right power-to-weight ratio will be the company that finds that finds the best value solutions for its customers.
"It's no different than diesel power, it's all about energy consumption," he said. "The [OEM] that wins the energy consumption race will win the [electric vehicle] race as well.
Nielsen said Freightliner customers already are looking for answers as to what technology they should invest in as some municipalities across the country signal their intent to limit commercial transportation to near-zero or zero-emissions vehicle solutions.
"In the past they've had some alternative powertrain technology options, be it [compressed natural gas] or whatever else they had a choice of investing in, and not all of those experiences have been good for them," said Nielsen. "But they definitely are not going to jump into another unknown experience and say, 'Here we go again,' and have a new set of powertrain problems. This time they are looking to us to get that confidence level up."
Electric vehicle R&D in progress
DTNA unveiled its Freightliner eM2 medium-duty and eCascadia heavy-duty trucks at an investor event in June, and earlier this month hosted an Electric Vehicle Council meeting with 30 fleets to garner reaction and input directly from its customers.
"Our customers were pleased that we could take a Cascadia vehicle they were familiar with and make a smooth transition from diesel-powered truck to an electric-powered truck," said Nielsen.
Initial use cases for Freightliner electric vehicles will revolve around port drayage, regional and inter-city applications, but the ultimate goal is a long-haul electric vehicle solution.
"As we develop a vehicle we always take the extreme business use case which is a full 11 hours of driving, spending the night in the truck or get a second shift out of the truck," said Nielsen. The power-to-weight density of the batteries isn't yet to that point where we believe a long-haul business case can be made."
Nielsen said NFI and Penske Truck Leasing next month will take possession of its Electric Innovation Fleet, a customer trial of 30 eCascadia and eM2 power units. DTNA will collect feedback on issues including charging infrastructure, incentives, route planning, servicing and use cases.
Citing the eCascadia's commonalities with the Mercedes-Benz eActros electric cabover truck in European markets, Nielsen said DTNA will continue to leverage global resources and bring together common solutions. "As we go forward [with electric vehicle development] separated from having to comply with regional diesel exhaust emissions standards, we are able to bring more of those global resources to bear."
Several weeks after Daimler's investment in Proterra – the market share leader in the North American electric city bus market – DTNA installed a Proterra city bus power unit into a C2 Thomas Built school bus. "[The Proterra acquisition] helps us advance testing and gives us another chance to explore another technology in the commercial vehicle space."
In the medium-duty electric vehicle segment, the Freightliner eM2 initially will have two battery-powered powertrains by two different systems integrators.
"The industry exploration is all in our quest to find a battery-connected vehicle solution that provide the best solution and positive use case for our customers," said Nielsen.
Lifecycle considerations
Nielsen said a switch from diesel to battery-electric vehicles doesn't mean customers should have to adjust current trade cycle practices.
"They are realizing that just like with diesel exhaust emissions, they should expect an improvement in energy consumption every year," he said.
Residual value through the vehicle's life and resale value remain unknowns but are at the top of the list of customer demands.
"Everybody is expecting that we should provide a battery-electric Class 8 truck that has a three- to five-year first owner lifecycle and it has not depreciated to zero when it gets to the second customer," said Nielsen. "They are looking for similar depreciation values [to diesel powertrains] so they don't upset the whole business case. At the moment the systems are costlier than a diesel truck, but we believe with the scale worldwide we can bring those costs down faster than anyone else."
This story was written by Jeff Crissey, editor of HWT's partner publication Commercial Carrier Journal.