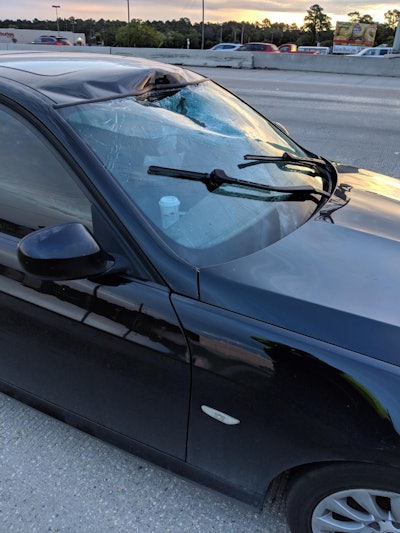 A trailer hitch was turned into a missile in Texas on Monday as it fell off a vehicle and crashed through a windshield of a trailing car on Interstate 45.
Pictures posted on the Harris County Sheriff's Office Facebook page show a dented roof of a BMW and large hole in its windshield.
"Tragedy was narrowly avoided this morning on southbound I-45 N. at Spring Cypress when this unsecured towing hitch smashed through a driver's windshield. Fortunately, the passenger seat was unoccupied," HCSO reports.
"If you haven't checked recently to ensure that your trailer hitch is properly installed, now would be a good time," HCSO continues.
We couldn't agree more. It's hard to believe, but one small steel pin is all that stands between safety and disaster.