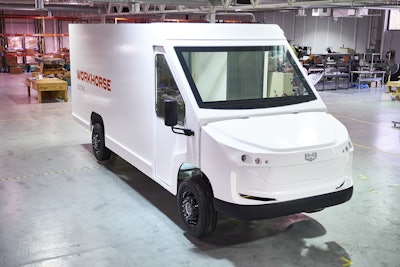 Workhorse has started production of its new light-weight electric delivery vehicle, the NGEN-1000.
With a range of 100 miles, the two-ton truck weighs nearly one-third of a traditional diesel step-van but offers 1,000 cubic feet of storage and 3-ton carrying capacity that is comparable to traditionally fueled units.
"For as long as I can remember, we've been discussing what the future of delivery looks like and what role electric vehicles will play in that," says Workhorse CEO Stephen Burns. "We are proud to say the future is here. With an off-the-lot cost on par with traditional fuel delivery vehicles, and substantial savings from there, we believe the NGEN will forever change the business of delivery as we know it."
The NGEN-1000 features a low floor with 7.25-inch ground clearance. Hub motors in front provide tighter turning radius than comparable vehicles and all-wheel drive provides surefooted handling in poor weather conditions. The van's composite body is lightweight and rust-free body.
The trucks revamped grille-less design, which includes a smaller battery pack than previous models, reduces the cost of the vehicle "significantly" Workhorse says. The smaller battery pack also reduces the cost of the charging infrastructure customers.