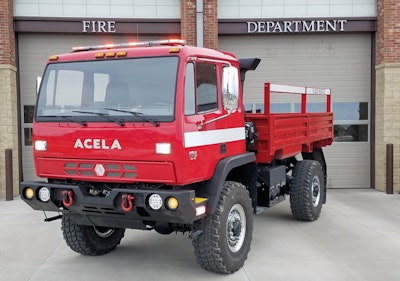 Floods are one of the leading causes of death from natural disasters in the U.S., according to the Federal Emergency Management Agency (FEMA) and Acela Truck Company set out to do something about it.
Acela recently announced an expansion of its High Water/Flood Rescue Truck line to include multiple new custom body configurations and larger 6×6 models of its Monterra high mobility chassis.
"I know first-hand how frustrating it is for local fire, law enforcement, EMS, EMA and Search and Rescue agencies to be faced with the challenges of having to rescue thousands of their customers without proper flood rescue equipment," said Acela President David Ronsen, a retired firefighter who spent many years as a field-deployed FEMA operations attaché, responding to dozens of catastrophic flooding events.
"Acela's product design team committed to designing an incredibly capable new tool for first responders to reliably and safely impact hundreds of people a day…the result is a true game changer," Ronsen continued.
Earlier this year, Acela Truck Company, manufacturer of extreme-duty, commercial truck chassis, introduced specialized high-water rescue and response trucks to its line of Monterra 4×4 high mobility chassis. With 47-inch tires, 23 inches of ground clearance, all-wheel-drive, waterproof alternator and starter and proprietary high-water fording kit, Acela's specialized flood rescue variants are capable of fording up to 50 inches of water. Monterras are additionally capable of safely responding at top highway speeds of 74mph.
Following a tremendous response to its original 4×4 High Water/Flood Rescue Trucks, Acela has expanded its line to include 6×6 models and a number of custom bodies and flood rescue-related options, increasing passenger carrying capacities to 27 passengers and providing faster, safer assistance to those in need.
All models are equipped with additional storage space and offer plenty of payload to accommodate pets, personal property and rescue gear. Acela has designed multiple configurations to suit virtually any agencies' needs and budget.
Popular options include National Fire Protection Association compliant warning lighting, scene lighting, fire pump packages, rescue boat racks, liftgates and stairway systems.
Monterra flood rescue trucks can double as brush/wildland fire engines, Urban Search and Rescue (USAR) support vehicles, cargo haulers and SAR/SWAT team troop carriers in rural and urban environments.
The Acela Monterra line of trucks were originally designed for U.S. Army use and come standard with full parts and service support backed by a bumper to bumper parts and labor warranty.
Acela's flood rescue vehicle retail pricing starts at $99,000 for 4×4 flood rescue trucks with agency-only discounts from Acela directly and through select fire apparatus dealers.