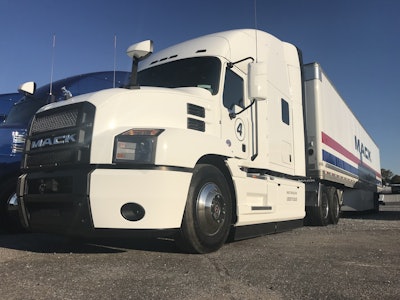 When Mack unveiled its new flagship tractor a year ago, the company set its sights squarely on seizing more long-haul marketshare — and it's working.
Anthem replaced Mack's Pinnacle axle-back models, and even though production only officially ramped up at the first of this year, demand for the new truck has exploded. Orders of 70-inch standup sleepers already are two times higher than they were for all of 2017.
I tested three Anthem configurations last week on a three-day nearly-1,000-mile drive from Asheville, N.C., to New Orleans. I made a similar run last year as part of a convoy that delivered several Anthems fresh off the assembly line in Allentown, Pa., to a trade show in Atlanta. That drive was more to get a feel for the Anthem themselves and their revamped driver-friendly features.
One of the spec's I was most excited to test was a 6×2 configuration outfitted with a liftable pusher axle and automatic load biasing. A 6×2 setup has become an increasingly popular configuration for bulk haulers and other haulers who spend time bobtailing, and being able to lift that axle provides considerable fuel economy benefits by lowering the truck's rolling resistance.
All the trucks were outfitted with Mack's mDrive 12-speed overdrive automated manual transmission and 13-liter MP8 engines, although power configurations varied. Each tractor featured a 70-inch standup sleeper and a 221-inch wheelbase. The 6X2s featured an MP8HE-415SE (415 hp and 1,760 lb.-ft. torque) engine with Mack's turbo compounding setup and the company's HE+ package.
Despite its blocky muscular exterior, the Anthem includes a number of aerodynamic enhancements for improved fuel efficiency, and the HE+ package adds another layer with a roof fairing with trim tab, side fairings with extensions, chassis fairings with ground effects and an aerodynamic bumper with a spoiler.
Anthem models spec'd with the MP8HE engine and HE+ package achieve the U.S. Environmental Protection Agency's SmartWay designation.
Every wheel end was fitted with Aero wheel covers, and both the truck and trailer got a set of EcoFlap aerodynamic splash guards.
The trailers – loaded to a 67,000-lb. gross – were upfitted with Transtex Edge trailer skirts and tails. The tails were GPS-enabled to self-deploy and retract at highway speeds. This was a cool feature considering that tails can deliver upwards of a 4-percent fuel efficiency improvement, but many drivers opt not to fool with the hassle of opening and closing them manually.
A recent study conducted by the North American Council for Freight Efficiency, looking at the fuel-savings strategies deployed by 20 fleets nationwide, found carriers that are among the most aggressive in adopting fuel-friendly technologies achieved 7.28 mpg last year across a combined 71,844 tractors and 236,292 trailers.
All the tractors in our six-truck Mack convoy averaged well above the 7.28 mpg mark, and no trucked logged a number that low during any of the trip's segments. Each tractor obliterated the U.S. fleet average of 5.91 mpg.
The Arctic White trucks were eye-popping and between the turbo compounding, the aero package, the 2.50 rear end and the 6×2, I thought I was staring down the barrel of 10-plus mpg.
The drive was a long 388-mile two-segment run from Memphis to Jackson, Miss., for lunch and then to New Orleans for the night. The white tractors averaged a robust 9.2 mpg for the entire journey, and many drivers flirted with 10 mpg. One driver even crossed that mark with 10.4 on Day Two.
However, my final-day 8.4 was the lowest mpg figure to come from the white units during the 932-mile trek.
Since Mack's ERT delivers the waste energy back to the crankshaft, the engine can operate at a lower power band – between 1,000 and 1,100 rpm. When I could keep my rpm near 1,050 for long stretches – cruising at around 62 mph – I would gain a tenth of fuel economy every few minutes. But just like in real trucking – where when you get there is just as important as that you get there – I consistently maintained a pace that kept me outside that optimized window where the fuel efficiency of the configuration really shined.
The driver of my truck's twin posted 9.8 mpg on this same leg. The twin truck also flirted with a 10-mpg average for the entire trip at 9.8 mpg.
If you drop my mpg figure from the convoy's average – I was the only one to park the truck with an average under 9 mpg – the two white units would have posted a combined average of nearly 9.5.
One of the elements on this truck I'd hoped not to test was the Bendix Wingman Fusion collision mitigation system. Just outside of Memphis, I moved into the left lane to let a car merge from the on-ramp. After making its way onto the interstate, the car sped around me, moved in front of me and climbed on the brakes to make a U-turn through the grassy median – all without signaling. The Fusion system – set to react to a half-second following distance – swooped into action, managing an aggressive braking event as the four-wheeler made its illegal about-face.