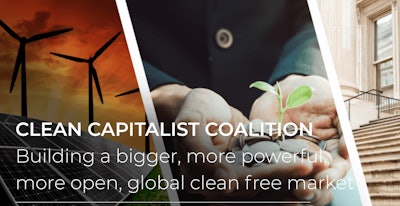 Today in Washington, D.C. a broad group of advanced energy and free-market organizations, scholars and experts launched the Clean Capitalist Coalition to focus on creating and promoting innovative policy ideas that reduce barriers to clean free enterprise and conservation while increasing prosperity and freedom.
The 14 initial members of the Clean Capitalist Coalition are Advanced Energy Economy, American Conservation Coalition, American Council for Capital Formation, American Council for an Energy-Efficient Economy, American Renewable Energy Institute, ConservAmerica, Citizens for Responsible Energy Solutions Forum, Clean Capitalist Leadership Council, ClearPath Foundation, Conservative Energy Network, Earth and Water Law Group, EarthX, Grace Richardson Fund, and the Ocean Recovery Alliance/ Plasticity Forum. Several individuals have also joined the Coalition, including Wayne Winegarden, PhD. Senior Fellow in Business and Economics, Pacific Research Institute, Meredith Walker, Chief Economist, EarthX, and Michael A. Mehling, Deputy Director, MIT Center for Energy and Environmental Policy Research.
"In recent years, conservatives haven't prioritized policies to advance clean free enterprise while protecting the environment. Conservatives need to work together developing new solutions based on free-market principles, even if they don't agree on every policy," said CRES Forum Managing Director Heather Reams.
"Barrier-free clean capitalism offers a fresh conservation-rooted paradigm, with no sticks, and barrier-removal as a healthier kind of carrot," said Rod Richardson, President of the Grace Richardson Fund. "It is my hope that the Coalition helps to shape a new consensus – and underlying policies – capable of transcending partisan lines that accelerate all low-to-zero pollution technologies. Cleaner, healthier, freer markets will create a freer, healthier, cleaner world – more peaceful and safe, too, as an added bonus."
The Coalition is structured around four principles applied to the most harmless and beneficial of solutions that reduce or eliminate pollution. So for these most beneficial activities:
· Remove regulatory, tax, and trade barriers to increase market participation and competition by large- and small-businesses and individuals;
· Establish and maintain a level playing-field for clean technologies, products, and services characterized by diminishing pollution and harm;
· Expand economic rights and freedoms, especially for activities that conserve and reduce harm; and
· Build a bigger, more powerful, more open, global clean free market.
The Coalition notably includes the Clean Capitalist Leadership Council, a group of clean capitalist investors, business leaders and philanthropists such as Andy Sabin, Sabin Metal Corporation; Trammell Crow, EarthX; Rod Richardson, Grace Richardson Fund; and Matthew Patsky, Trillium Asset Management.
Members of the Coalition will benefit from a constructive, impact-oriented collaboration. The Coalition has begun to explore clean tax cuts, voluntary emissions reporting, clean asset bonds, and technology neutral tax credits.
"Empowering American innovators to reduce the cost of clean energy technologies and reducing unnecessary government barriers to deployment can unlock billions of dollars of private sector investment in new clean energy projects," said ClearPath Managing Director-Policy Jeremy Harrell. "By exploring common-sense free market policy solutions rooted in these principles, the Clean Capitalist Coalition intends to elevate the energy policy debate in Washington and ultimately bolster long-term American clean energy growth."
Further information about the Clean Capitalist Coalition can be found at www.CleanCapitalistCoalition.org.