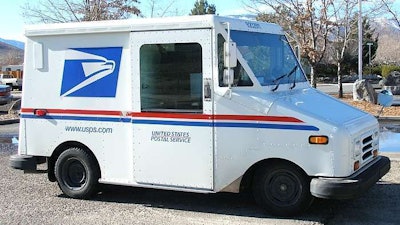 A Southern California postal worker who was found dead inside her USPS van in July had succumbed to heat exposure, according to a coroner's report.
The Los Angeles County Medical Examiner-Corner reported this week that Peggy Frank, 63, died of hyperthermia. Frank had been found unresponsive in her postal vehicle in the Los Angeles neighborhood of Woodland Hills on July 6 during a heatwave that brought on a record high of 117 degrees.
USPS offered "thoughts and prayers" to Frank's family and emphasized its dedication in keeping employee safety a priority.
It's unclear if Frank, who had a history of health problems and had experienced heat stroke in May of last year, had been following USPS recommendations for avoiding heat exhaustion. To help deal with the heat, USPS advises its carriers to stay hydrated, wear appropriate clothing including hats, get in the shade whenever possible and take sufficient amounts of water and ice with them on their routes.
A co-worker of Frank's told the Los Angeles Daily News that drivers are required to keep their doors and windows locked for security reasons and that temperatures are about 10 to 15 degrees hotter inside the truck. Though the older Long Life Vehicles (LLVs) in the USPS fleet are not equipped with air conditioning, the post office's wish list for its new daily mail trucks includes optional A/C.
OSHA confirmed that they are investigating Frank's death and that they have up to six months to finish their work. They will not be issuing a report. Instead, at the conclusion of their investigation, they may issue a citation, if warranted.
"OSHA does not issue reports," an agency spokesperson told HWT. "The agency issues citations if violations of OSHA standards are found, or hazard alerts or letters to warn employers about the dangers of specific industry hazards and provide information on how to protect workers exposed to those safety and health hazards."
Though OSHA may not issue detailed reports, on its website it does post brief descriptions of violations, including those related to heat exhaustion. Over a four-year period, from 2012 to 2016, USPS received two violations for heat exhaustion and two for heat-related deaths.
OSHA said that their "heat-related investigations often involve delivery workers."