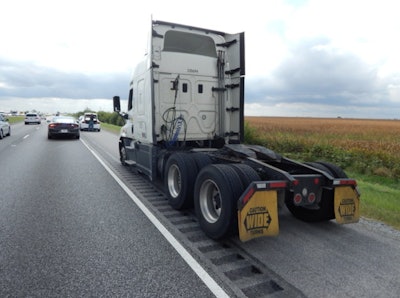 A truck driver led Indiana State Police on a 20-mile chase Friday morning that finally ended after troopers deployed spike strips for a second time.
When troopers first received a report of the reckless bobtail around 11 a.m., it had been weaving on southbound I-65 close to the Lowell exit and had nearly slammed into construction barrels. The 2017 Freightliner was also seen driving on the shoulder of the road.
As one trooper gave chase another eventually caught up, passed up the tractor and tried gesturing to the trucker to pull over. When that didn't work the trooper threw out Stop Sticks which the trucker avoided, according to a state police press release.
Southbound traffic kept its distance behind the truck as it continued traveling around 65 mph on the 70 mph highway. The chase came to end shortly after an off-duty trooper about two miles ahead of the tractor dropped more Stop Sticks across the highway which this time the truck ran over.
With a left front tire completely in shreds, the trucker finally pulled over a few miles following his encounter with the spike strip. The driver, 38-year-old William E. Tumey of Martinsville, Indiana, was arrested and taken to an area hospital for a toxicology blood draw and later jailed on multiple traffic violations plus felony resisting law enforcement with a vehicle. Toxicology results are pending. No injuries were reported.