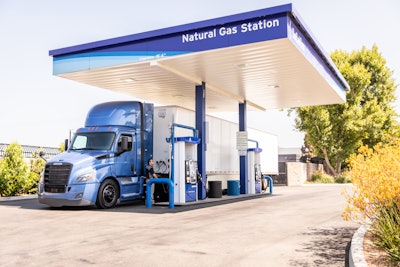 Southern California Gas Co. today announced it will soon be selling renewable natural gas (RNG) for the first time at the 25 utility-owned natural gas vehicle fueling stations across its service territory, as well as at six fueling stations in the San Diego area.
Last month, the utility received approval from the California Public Utilities Commission (CPUC) for a pilot program to purchase the renewable fuel and capture the additional environmental credits generated. Today, it published a Request for Offer (RFO) and expects to complete gas purchase agreements in the near future.
"Using renewable natural gas at our natural gas fueling stations will help clean the air for Southern California communities and support the state's clean energy future," said Sharon Tomkins, SoCalGas' vice president of customer solutions and strategy. "SoCalGas will continue to work to increase the use and production of renewable natural gas, meeting consumer preferences and helping to achieve state's climate and air quality goals while efficiently using existing infrastructure."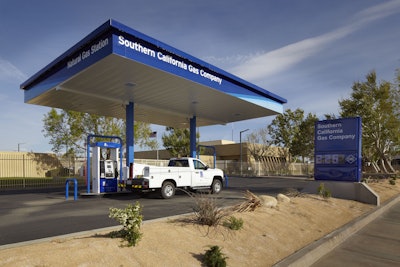 Renewable natural gas is produced from the methane generated in landfills, wastewater treatment plants, food processing and dairies and depending on its source, can be low-carbon or in some cases, even carbon-negative. It can be used to fuel trucks and buses, to generate electricity, to heat homes and businesses, and to cook.
According to SoCalGas capturing the methane from these waste sources and using it for fuel provides two benefits: it keeps methane, a greenhouse gas, from entering the atmosphere and contributing to climate change and it reduces the use of traditionally-sourced natural gas.
The California Air Resources Board views methane as being a much more potent greenhouse gas than carbon dioxide, so much so that last year it awarded its lowest carbon intensity score ever, -255 grams of carbon dioxide equivalent per mega joule (gCO2e/MJ), to RNG producer AMP Americas. By comparison, diesel has a carbon intensity score of +98, while traditional natural gas is +79 and electric is +35.
Other advantages that RNG powertrains have over electric are lower upfront costs, better range, payload and towing capacities and an established fueling infrastructure.
Because renewable natural gas can be stored and delivered through the existing natural gas infrastructure, SoCalGas reports that it can help California reduce greenhouse gas emissions and meet the state's renewable energy and air quality goals in a cost-effective way. In addition, unlike solar and wind energy, renewable natural gas is available when needed—day or night.
"Using renewable natural gas to fuel near-zero emission heavy-duty trucks in Southern California will help solve our air quality problems while lowering climate impacts," said Dr. Joseph Lyou, President and CEO of the Coalition for Clean Air and a member of the South Coast Air Quality Management District Governing Board. "It's good to see SoCal Gas taking the lead on this renewable natural gas project."
According to SoCalGas the latest generation of natural gas engines for heavy duty vehicles can reduce smog-forming emissions by more than 90 percent compared to the cleanest heavy-duty diesel trucks. When these ultra-low emissions natural gas trucks are fueled with renewable natural gas, greenhouse gas emissions are reduced by at least 80 percent. Environmental officials in California believe that the transportation sector is responsible for about 40 percent of the state's greenhouse gas emissions and more than 80 percent of its smog-forming (NOx) emissions.
Cummins-Westport, which continues to attract fleets to its 2018 near-zero natural gas engines (the B6.7N, L9N, and ISX12N) applauded SoCalGas for choosing to offer renewable natural gas.
"Cummins Westport is pleased to see more renewable natural gas becoming available for truck and bus customers in the Southern California area," said Bart van Aerle, president of Cummins Westport. "Using RNG with Cummins Westport near-zero emissions natural gas engines offers a clean and low cost solution today. We congratulate SoCalGas for this achievement, and for their continued leadership in creating solutions for today's air quality challenges."
California provides incentive funding to help trucking fleets transition to renewable natural gas. Close to 70 percent of natural gas fleets in the state are fueled with renewable natural gas, including Athens Services, a Southern California waste collection and recycling company.
"Athens Services is committed to our environment and the communities that we serve, and our CNG vehicles that collect municipal waste are just one of those examples," said Gary Clifford, executive vice president for Athens Services. "While our vehicles are fueled with renewable natural gas at our hauling yards, we applaud SoCalGas for offering opportunities for more natural gas vehicles to also use this renewable clean-air fuel."
Incentives are available to fleets that choose to fill up with renewable natural gas.