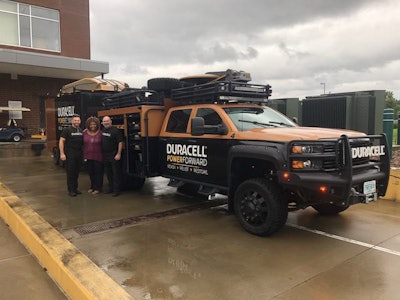 Whether it's rescuing people and pets, restoring power, hauling off debris and bringing in much-needed supplies, trucks will continue to be on the move bringing much-needed help and relief to areas hit hard by Hurricane Florence.
But unfortunately, getting to some places in North Carolina is proving to be especially difficult if not impossible given intense flooding that still has not peaked following the storm's landfall on Friday. As of today rivers still have not crested prompting the North Carolina Department of Transportation to advise against traveling through the state.
Some trucks were already in position or en route prior to NCDOT's travel advisory. We've rounded up some reports from Facebook, including one from the North Carolina State Highway Patrol which posted a picture (shown above) and a big thank you to the Duracell truck for bringing by a 1,000 pounds of batteries which it says will be "distributed to first responders and shelters throughout. Your generosity is appreciated."
The Cajun Navy has been busy since day one and asked its legions of volunteers today to avoid coming to North Carolina until further notice because of intense flash-flooding. Flooding has been so bad that even a few members of the popular rescue team had to be rescued themselves by the National Guard's high-water trucks. A video below posted by the Cajun Navy reveals more about the challenges rescuers are up against.
US Truckers posted a video Friday showing dozens of tractor-trailers and box trucks waiting to hit the road and help with hurricane relief.
NCDOT crews from Elizabeth City headed out today to support recovery efforts in Lenoir, Craven, Pamlico and Carteret counties. Even though some road lanes might be open, it's important to keep them clear for crews like these to safely do their jobs. #FlorenceNC #ncwx pic.twitter.com/C6vF4Dk08a

— NCDOT (@NCDOT) September 16, 2018