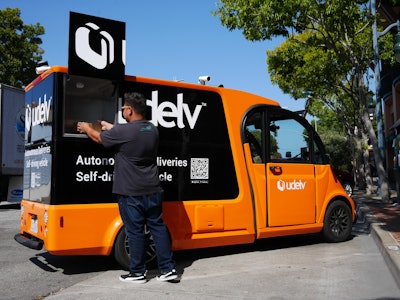 Autonomous delivery vehicle (ADV) start-up Udelv announced today a historic deal to supply a chain of Oklahoma grocery stores with a fleet of self-driving vans.
Udelv's agreement with Narnia Road and Esperanza Real Estate Investments will see its first ADV rolling out in Oklahoma City during the first quarter of next year. Nine other vans will follow by the end of June and be out on the streets making deliveries for Uptown Grocery, Buy For Less, Buy For Less Super Mercado and Smart Saver.
Udelv, which calls the deployment "the largest ADV deal in the world to date," reports that the vans will operate with safety drivers until both companies and regulators approve the vehicles for driverless operation.
Narnia Road and Esperanza have also secured an exclusive dealership agreement with Udelv for additional fleet vans to service other local merchants, residents, and potential pharmacies in underserved markets.
The vehicles (SAE L4[1] ADVs) will eventually cover thousands of miles of residential roads in what Udelv describes as one of the largest autonomous driving deployments in the world. Udelv would not disclose the vans powertrains, though on its website it states that its vehicles are battery-powered.
Udelv and Esperanza Real Estate Investments will establish operations in Oklahoma City and create a state-of-the-art tele-operations center for the remote control and monitoring of the fleet.
"This agreement and subsequent advent of ADV technology in Oklahoma City is a technological win for Oklahoma," said Susan Binkowski, CEO of Esperanza and co-owner of the Buy For Less Grocery Company.
"We believe we exist to elevate communities and relationships, always striving to be innovative and forward thinking with decisions on how to serve our community," Binkowski continued. "As a leading provider of grocery in Oklahoma, we are thrilled to add this new technology that enhances our ability to deliver food with excellence, service, and convenience to Oklahoma families. We are proud to be working with a visionary company committed to helping us pioneer the future of delivery technology."
Udelv CEO, Daniel Laury said the deal was Udelv's largest since launching its ADV in January 2018 and represented a massive technological breakthrough.
"The partnership between Udelv and Esperanza and the BFL Company of stores is a historic agreement and signals the start of ADVs making everyday life easier for Americans," Laury said. "We're proud to be working with a visionary company committed to helping us pioneer the future of delivery technology.
"Over the next several months, Udelv will work with Esperanza, local authorities, regulators and more to master miles of roads in the Oklahoma City area to ensure our vehicles can provide safe, convenient and affordable delivery services to local communities," Laury continued. "With over 700 deliveries on public roads with a safety driver already completed in the San Francisco Bay Area on behalf of more than ten paying clients, Udelv has demonstrated its capability to safely pioneer this technology and proven the benefits to local retail and their customers in the community. But with this new milestone, the present deal puts Oklahoma City at the forefront of technology."
Store employees will receive cargo compartment loading training for the vans with the help of a mobile app.
Maintenance of the vehicle itself is no different than a regular cargo van, according to Udelv. Maintenance of the sensing and computing equipment will occur as part of the periodic upgrades.