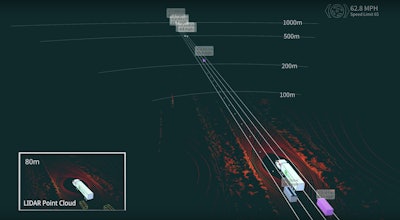 Chinese autonomous truck start-up TuSimple says it has developed breakthrough technology that allows self-driving tractors to detect and analyze other vehicles on the road up to nearly two-thirds of a mile away.
In a video posted on YouTube, TuSimple states that its "perception system at 1,000 meters (3,280 feet) can comprehend the vehicle's speed, distance, classification, trajectory and intent."
An animated portion of the video shown below demos how a truck equipped with TuSimple's perception system detects and changes lanes to avoid a disabled vehicle that is 780 meters (2,559 feet) down the highway.
As far as we know no other traffic detection system has that kind of range. The system uses camera-based computer vison technology combined with other technology, including lidar and radar.
According to its website, TuSimple was founded in 2015 with headquarters in Beijing and San Diego, Calif. With strong financial backing and technical support from AI heavyweight Nvidia, TuSimple opened a testing facility in Tucsion, Ariz. in 2017 and expanded in February to a new 50,000-sq.ft. production facility to house TuSimple's fleet of Peterbilt trucks.