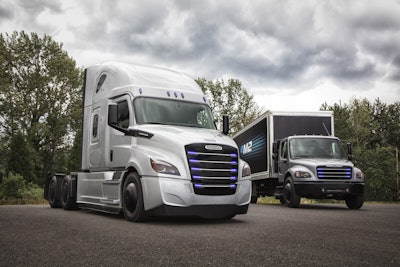 For the past ten years, Penske Truck Leasing has had electric trucks in the field and during that time the Pennsylvania-based company has learned a few things about the emerging technology which continues to attract more fleets.
For starters, Penske supports the standardization of EV charging systems which currently vary in features, voltages and vehicle accommodation. Penske announced this week that it's become the first truck leasing company to join the Charging Interface Initiative (CharIN), a worldwide industry alliance focused on promoting Combined Charging System (CCS) as the global standard for charging electric vehicles (EVs) of all types.
"As a leading services provider to commercial fleets, we feel standardization around electric vehicle charging and charging stations will help accelerate the use of electric vehicles within the transportation industry," said Brian Hard, President and CEO of Penske Truck Leasing. "The interoperability of vehicle charging stations over the road is essential for commercial fleet uptime, efficiency, maintenance, and general ease of use for the industry."
Penske currently maintains 50 electric trucks. Several are being leased in Southern California. As announced in June, Penske will begin taking delivery of electric trucks later this year from Daimler Trucks North America: 10 Freightliner eCascadias and 10 eM2s will be put to work in California and the Pacific Northwest, while 10 eCascadias will begin being delivered to NFI for drayage activities from the ports of Los Angeles and Long Beach to warehouses in California's Inland Empire.
As EV technology continues to make its way into larger vehicle classes, Penske sees standardization as the best approach in helping to more quickly and efficiently charge commercial EVs and get them back out onto the road. They're not alone. Other companies that have joined CharIN include Bosch, BYD, Daimler, FCA, Ford, GM, Honda, Tesla, Toyota and Volvo.
As a member of CharIN Penske will focus its attention on helping to promote electric vehicle charging standards for commercial vehicles in North America by participating with the group's High Power Charging for Commercial Vehicles Task Force (HPCCV Task Force).
"There are systems that could charge a truck, but the amount of time that it would take would make it out of use for too many hours and it wouldn't make a lot of economic sense," explained Bill Combs, Penske's connected fleet director.
"The idea here is to come up with a high-power charging standard that would be adopted by various OEMs and then fleets could choose based on other components of that truck and then it could get into range and charging schemes as opposed to, 'Am I able to charge this vehicle?'"
Utilities have also taken an active role at CharIN.
"Several utilities are actively participating on the commercial vehicle task force, so they are very much involved in the conversation," Combs said. "One of the early goals of the task force was to invite as many perspectives into the conversation as possible to ensure our collective output was objective and balanced. One of the sub-groups is geared specifically for input from the utilities. In general the utilities seem very enthusiastic about the prospect of electrifying North American commercial fleets."
Penske's fleet of 270,000 vehicles is comprised of roughly 700 alternative fuel vehicles. Fleets are continuing to express more interest in electric trucks, Combs said, which means keeping an even closer eye on electric power trains, various battery chemistries and charging systems.
"We have to, number one, make sure we understand all the technologies out there to ensure that we put them into the right kind of operations with our customers," Combs said. "And we want our customers to succeed. So what percentage will that end up being (of customers that choose electric trucks)? Well, that will depend a lot on battery technologies and use cases that can prove themselves for EV technology.
"There's a lot of excitement. There are a lot of OEMs working on the technology," Combs continued. "There are a lot of customers asking questions about the technology, and so we want to make sure we understand it and that we're there to enable our customers to use it properly when the time comes to do that. So, as much testing that we can do now and understanding and being involved with these sort of initiatives and alliances, the better off we'll be."