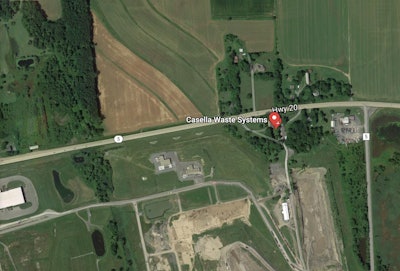 Authorities in New York have found the truck driver involved in a fatal projectile accident that killed a woman nearly two weeks ago on a rural highway in Ontario County.
Manuel Vallejo, a co-owner of Vallejo Trucking, was cited for having his mud flaps up on his 2009 Freightliner when leaving the Casella Landfill in Seneca on August 4. Video shows Vallejo exiting the landfill onto Route 5 with a rock wedged between his rear dual tires, according to whec.com.
As Vallejo drove his truck eastbound on the highway the rock launched from the tires, penetrated the windshield of a westbound car and struck passenger Barbara Amidon, 74, in the head. She died later that night at a hospital.
Amidon's boyfriend, 65-year-old Gregory Sterman, who was driving the car with Amidon at his side was not injured.
A mechanic who works at a shop nearby says it's common to find large rocks on the road where Amidon was killed near the landfill. The rocks have damaged wheels along with oil and transmission pans, according to 13wham.com.
Following news of Amidon's death, a woman came forward and told whec.com that a rock had shattered the windshield of her car last year in the same area.