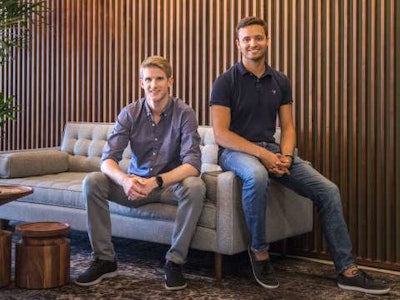 A co-founder of Otto, an autonomous trucking tech company that was acquired by Uber in 2016 and subsequently closed down last week, is re-entering the self-driving truck segment with a new company.
Mountain View, Calif.-based Kodiak Robotics is the three-month-old self-driving truck brainchild of Don Burnette, who before starting Otto was one of the early engineers on Google's self-driving car team, and former venture capitalist Paz Eshel.
Exactly how the company plans to transition a human-driven tractor to autonomous control is unclear. Reached via email by CCJ Wednesday, the company declined to discuss "specifics about the business model or technology."
Earlier this week the startup announced it has raised $40 million in Series A financing led by global investment firm Battery Ventures, with CRV, Lightspeed Venture Partners and Tusk Ventures also participating in the round. Eshel most recently was a vice president at Battery Ventures, where he led the firm's autonomous-vehicle investment project.
"This financing, coming just three months after founding Kodiak Robotics, is a huge validation for our vision," Burnette says. "We believe self-driving trucks will likely be the first autonomous vehicles to support a viable business model, and we are proud to have the support of such high-profile investors to help us execute on our plan."
Battery Ventures General Partner Itzik Parnafes, who also joins Kodiak's board as part of the investment, called autonomous driving "likely one of the most major technology shifts of the last 100 years" and says his firm had been researching the trend for several years.
"[We] feel confident we are backing an experienced, savvy team that can capitalize on the opportunity in a unique way," he adds.
Lior Ron, another Otto co-founder, was named head of Uber Freight this week – a post he previously held after his company was acquired by Uber two year ago until March of this year.