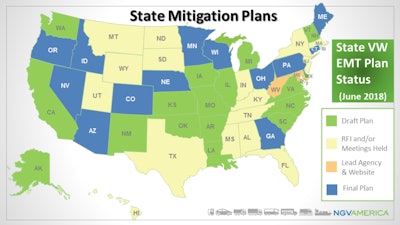 Natural Gas Vehicles for America will be providing an update on the VW settlement funds this Thursday during a free webinar.
"Nineteen states have finalized their distribution plans; an additional 16 states are circulating draft plans for public input," NGVA announced. "Several states have already opened applications for VW grant programs using the $2.9 billion in available resources."
NGVA continued, "NGVAmerica's July 19th VW Settlement Trust webinar will share important details about these funding opportunities for new natural gas vehicle purchases. Ensure that you and your fleet partners fully understand this opportunity to run cleaner vehicles that are cost-effective and use American fuel."
Special thanks to Landi Renzo USA, a Ford Qualified Vehicle Modifier (QVM), for reminding us of the event which will take place this Thursday from 1 to 2 p.m. Register at Eventbrite.com.
"This is an important seminar to learn how you can utilize VW funds for Landi Renzo USA products," Landi Renzo reports.
Natural gas vehicles are among the cleanest burning in the nation. According to the California Air Resources Board, renewable natural gas, which is mostly derived from methane found on dairy farms and in landfills, has the lowest carbon index score in the nation at -255. Electric powertrains have the second lowest CI score at +35.
NGVA provides weekly updates online to its VW Settlement State Tracking chart. Chart below is posted on NGVA's website.