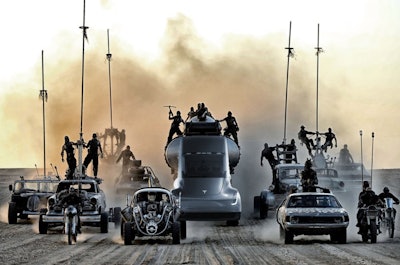 Tesla CEO Elon Musk revealed a little something more about his company's Semi today which will undoubtedly pique the interest of drivers and movie fans around the world: Mad Max mode.
Before anyone gets too excited about taking on the nation's worst traffic jams with a gleeful vengeance, keep in mind that Musk hasn't explained exactly what this feature will do.
In a picture that he posted on Twitter, Mad Max mode appears to be the highest of three Autopilot settings for Blind Spot Threshold which are listed as Standard, Aggressive and Max Max.
"It's real," Musk says of Mad Max in his Tweet.
The image of the Autopilot screen generated roughly 12,000 likes by this evening while an image posted by a fan of a Tesla Semi amid a popular scene from the classic Mad Max SciFi blockbuster (shown above) pulled in 32,000 likes. Guess it's all about the right optics.
Naturally, Musk's Tweet generated plenty of comments and questions.
When one user mentioned how Mad Max mode needs to be used around the LA area during rush hour, Musk responded:
"We considered going beyond Mad Max to 'LA Freeway' level, but that's too loco."
Too bad. Guess that rules out any chances of getting a 'Release the Kraken' mode.
It's real pic.twitter.com/L9h3F86Guo

— Elon Musk (@elonmusk) June 25, 2018
wow – love the press photos for the new Tesla truck @elonmusk — truly a vision of the future pic.twitter.com/sje9Fn7Xsx

— Jon Gold (@jongold) November 18, 2017