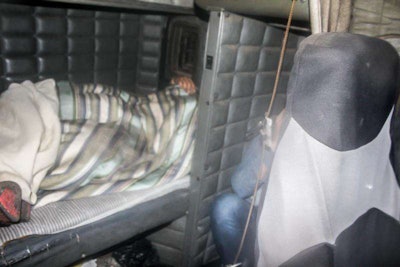 U.S. Border Patrol Agents discovered illegal immigrants packed into the cab of a semi that was attempting to cross from Mexico into Texas on Friday.
Agents assigned to the Laredo Sector Border Patrol Checkpoint on Highway 83 north of Laredo referred a 2000 Peterbilt for secondary inspection after noticing the driver's nervous behavior. Six illegal aliens from Brazil were found hiding inside the truck's cab (see photo above).
The driver, a U.S. citizen, was not identified in the agency's press release.
"The criminal element has no regard for the safety of our country," said Gabriel Acosta, assistant chief patrol agent at the Laredo Sector. "These people could easily have been terrorists entering to cause harm. The United States Border Patrol is committed to disrupting and dismantling these organizations."
Homeland Security Investigations (HSI) is the lead investigative agency in this case.
Border Patrol Agents throughout the South Texas Corridor have disrupted numerous tractor-trailer human smuggling cases, often resulting in the rescue of individuals who are placed in life-threatening situations, including hot and unventilated trailers.
The United States Border Patrol in South Texas reports that it has taken a proactive approach in mitigating this smuggling trend through the implementation of Operation Big Rig. Operation Big Rig is a call to action by everyone to call 911 if they see or are aware of smuggling or suspicious activity of any kind.
To report suspicious activity such as alien and/or drug smuggling, download the "USBP Laredo Sector" App or contact the Laredo Sector Border Patrol toll free at 1-800-343-1994.