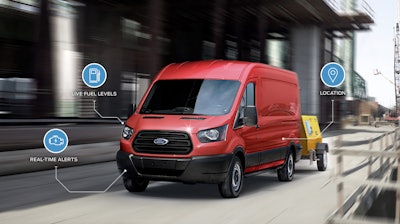 All technology has a shelf life. For Ford Commercial Solutions, it was the complaints they kept hearing from fleets about third-party, OBD-II plug-in telematics devices that helped lead them to create new products that rely on Ford embedded modems.
"They are notoriously unreliable and they can be hard sometimes to update over the air," Lee Jelenic, CEO of Ford Commercial Solutions, said of OBD-II plug-in modules. "They're sometimes hard to install, but always easy to uninstall. It's easy to unplug those and that can be a frustration for a fleet that's spent a long time plugging those in. A driver can knock it out if they feel like they don't necessarily appreciate what the information is coming out of there."
To help fleets get around third-party plug-in issues, Ford Commercial Solutions has developed its Data Services product which relies on a Ford-engineered embedded modem to pass along Ford vehicle performance data to the Transportation Mobility Cloud where it's relayed to a fleet's internal IT system or telematics service provider through an application program interface.
"Business owners and operators want to serve their customers, not spend excessive time managing their fleets," Jelenic said. "Our goal is to unlock the data from their vehicles to provide them with more effective ways to manage their fleets and improve operations.
"Our new products are tailored to serve fleets of all types, whether they're run by law enforcement, composed predominantly of Ford vehicles, or are large multi-make fleets that want more insight from their Ford vehicles," Jelenic continued.
It's a pretty straight-forward approach. Ford believes that it's in a better position to offer customizable data insights from its vehicles since it engineered and manufactured those vehicle in the first place.
"We know the electrical architecture so well," Jelenic explained. "We understand the data systems. We can take raw data and couple that with the knowledge of our vehicle…we can deliver some pretty compelling insights."
During fleet beta testing, Jelenic said that Ford demonstrated that it could offer customized data signals. "By doing hardware at the speed of software and then writing smart software we can actually get some new signals for customers quickly," he said.
Fleets can monitor things like fuel consumption, brake performance, engine oil, washer fluid, air bag function, tire pressure, idle time, vehicle speed, vehicle location and driver behavior.
In the future, Ford Commercial Solutions may offer fleets the opportunity to more closely watch and even remotely control vehicle air conditioning, which of course impacts fuel consumption. Driver identification and greater emissions analysis, beyond carbon dioxide measurements, are also being considered.
Ford has focused on prioritizing fleet concerns during product development. Things like trouble code accuracy, for example, are tantamount to keeping a vehicle on the road.
"What we're ensuring is that the vehicle health alert is accurate, it's prompt and it's verified," Jelenic said. "That's our commitment to the value chain. And again, our ability to do that with our own OEM-grade data with our embedded modem versus relying on a third-party aftermarket PID (plug-in device) makes us very confident that we're adding a lot of value to that flow of information."
Ford Commercial Solutions is committed to ensuring fleets have the power to choose which telematics service provider or fleet management company is the best fit for their business. While continuing its existing relationship with Verizon Connect, Ford Commercial Solutions has secured new service agreements with Geotab and Spireon to ensure fleet operators have choice in telematics service providers.
"Fleets told us they want to be able to choose how to best manage their fleets," said Jelenic. "Our agreements with different service providers, coupled with the new products we are introducing, allow us to offer this."
Ford Commercial Solutions' second product is a new fleet information tool designed to support law enforcement fleets. The tool uses information collected through the Data Services product and distills it to provide police fleets with insights that can help improve fleet efficiency and driver safety. The application translates information flowing from their Ford vehicles into insights on fuel usage, carbon dioxide emissions, vehicle health and driver seatbelt usage.
That data is shared through an intuitive website that provides law enforcement operators with an easy way to check how their fleet, or a particular vehicle, is operating.
Fleets with Ford vehicles that are not equipped with modems will be able to take advantage of both Ford Commercial Solutions products later this year, when a Ford-engineered plug-in device will enable fleets to connect Ford vehicles dating back to the 2012 model year.
"All new vehicles that we will sell from 2020 and beyond will have connectivity and many vehicles that we are selling in the '18 and '19 model year have connectivity," Jelenic said. "Quite a bit of our vehicles out there have connectivity and that number's only going to grow, and again, that reduces a bunch of complexity and some headaches from the supply chain and value chain."