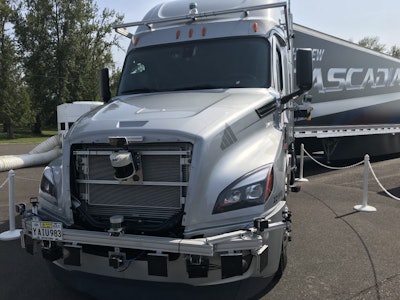 Daimler Trucks plans to open an Automated Truck Research and Development Center at its Swan Island, Ore., headquarters the company announced at its Capital Market and Technology Day Wednesday.
The new research development will join a full-scale heavy-duty truck wind tunnel on Swan Island and the High Desert Proving Grounds nearby in Madras, Ore.
DTNA Vice President of Engineering and Technology Wilfried Achenbach says electrification, automation and connectivity are three of the largest factors driving the trucking industry and the new Automated Truck R&D Center will aid in the implementation of those technologies that align with corporate pillars of safety, efficiency and reliability.
"We're not in this business just to create buzzwords," he says.
The new center will be dedicated to developing automated driving technology and understanding its impact on society and benefits for customers. Engineers there will lean on resources from other Daimler Trucks locations in Stuttgart, Germany and Bangalore, India, stitching together a global network of engineers dedicated to automated driving.
The three locations will work together, while R&D activities on automated trucks in Germany will also be expanded to expedite and deepen the company's efforts in the field. The team will be charged with leveraging the experience and knowledge from previous research performed across Daimler's vehicle divisions, including passenger cars.
"There are a lot of things Daimler cars is leading in automated driving, but it's not a paste and copy approach [from cars to heavy trucks]," says Peter Vaughan Schmidt, head of Daimler Trucks strategy.
Roger Nielsen, president and CEO of Daimler Trucks North America, says the company's goal is to deploy a fully integrated Daimler solution.
"We can accomplish this with a combination of vehicle road testing over millions of miles around the globe and advanced simulation," he says. "The global collaboration that takes place among research and development teams at Daimler extends to vans, buses and passenger cars, and each advancement is a building block for the future of automated vehicles."
The new facility is part of a nearly $3 billion investment in total research and development activities over the next two years. More than $500 million of that is earmarked for e-mobility, connectivity and automated commercial vehicle technology.
The center will focus on all aspects of development, testing, and validation needed for high levels of automation, including software, sensors, machine learning, and simulation, as well as the necessary adaptation of the base vehicle platform. The Automated Truck R&D Center will also be established as a facilitator of co-creation where customers, suppliers, and business partners can collaborate, ensuring the technology is calibrated to real-life applications.
The future of automation
Level 1 automation is already widely available with technologies like adaptive cruise control, and the wide adaptation of Level 2 technologies – like lane keeping solutions and automatic braking – are on the horizon.
Peter Vaughan Schmidt, head of Daimler Trucks strategy, says the next great horizon will bypass Level 3 and jump directly to Level 4 where a truck operates without human input under conditions determined by road type and/or geographic area.
Steve Nadig, DTNA chief engineer of mechatronics, says Level 4 autonomy needs the same equipment as level 3, so skipping Level 3 makes sense.
"We even think Level 4 is safer than Level 3," Vaughan Schmidt adds.
None of these technologies is designed to displace drivers. Vaughan Schmidt notes a projected shortage of 150,000 drivers by 2025, but says automation isn't a magic bullet for a lack of manpower
"The drivers will always be part of the integration," he says. "Automation can give a relief of that number. It won't remove it and it won't flip it into a surplus."
DTNA's Automated Truck Research and Development Center will play a role in developing the technologies that could eventually put a Level 4 autonomous truck on the highway.
"We think having a truck inner-city, this is still far out and the challenge is far more complicated than doing it with a car," Vaughan Schmidt says, "and for trucks, the highway problem is the easiest to solve."
As technologies are tested and deployed, Vaughan Schmidt says DTNA customers will have a prominent voice in the process.
"We are not in the game of competing with our customers," he says. "Safety is a priority. Whatever we do must be 100 percent reliable. I think everybody can do a [demonstration]. This has nothing to do with real automated driving."
Vaughan Schmidt says the onus to develop and deploy safe autonomous technologies lies with the OEM, and he is skeptical about aftermarket solutions.
"Building an autonomous truck as a product is a really tough game," he says, noting that all the peripheral software and sensors and cameras will be required to communicate with the truck's computer.
The future of connectivity
Connectivity is a key foundation of autonomy, shared services and vehicle electrification.
From a technology standpoint, Marcus Claesson, chief information officer for Daimler Commercial Vehicles, says the truck is a device that communicates with the world around it, sending its information to anyone authorized to be in the loop.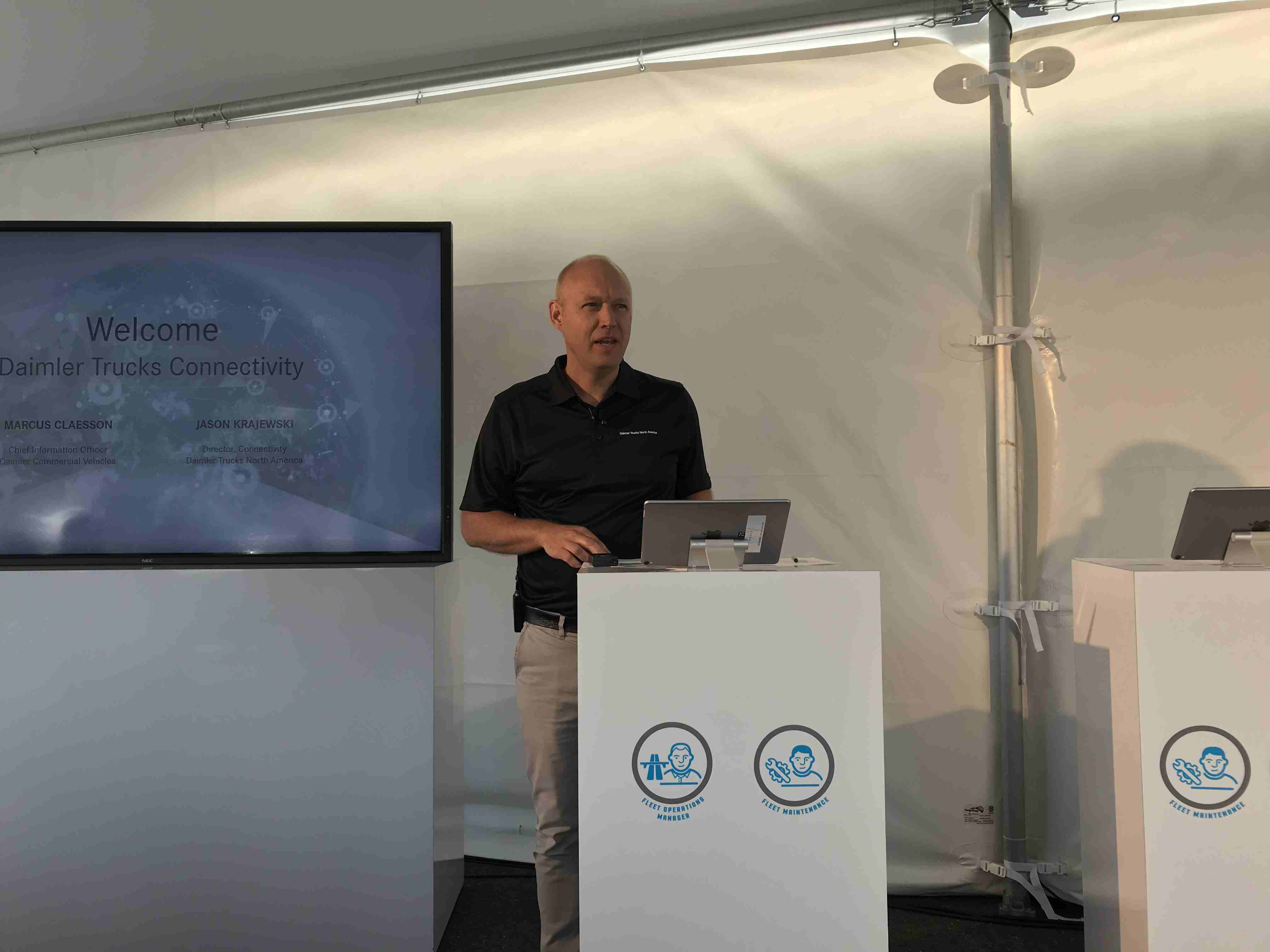 "In the past," Claesson says, "it was the driver that interacted with the truck. Today there are many other people interacting with the truck but they're not touching it physically."
Trucking, Claesson says, is currently undergoing a revolution similar to what's been seen in telecommunications.
"Today, with [a cell phone], making calls is the last thing you do," he says. "The truck becoming smart is changing the [business to business] market. A phone has roughly 20 sensors. The truck has hundreds of sensors. You can imagine what you can do with that."
Over the air updates have eliminated the need to visit a brick and mortar location to update engine parameters, much like online and mobile banking has eliminated the need to visit a branch.
"We've just taken something that previously took a lot of scheduling … and we're now able to do this right from our desk," Director of Connectivity for DTNA Jason Krajewski says of remote engine updates. "Connected vehicles now are really quite commonplace [but] when we think about trucks, things are a little bit different. Not all of the connected vehicles technologies are purposed for business."
On an international scale, Daimler Trucks already has more than one-half million trucks connected to the Internet of Things via its FleetBoard and Detroit Connect connectivity platforms. It was also the first truck manufacturer to demonstrate digitally connected trucks – platooning – on public roads in Europe, the U.S. and Japan. In the fall of 2017, Daimler Trucks presented a further possible application for future implementation of automated commercial vehicles: At an airfield in Bad Sobernheim, Germany, an automated and remote-controlled fleet of four Mercedes-Benz Arocs tractor units cleared the runway.
On the fleet-level, Krajewski says Detroit's Virtual Technician remote diagnostics platform was developed in 2011 to put fleet operations managers and fleet maintenance on the same page.
In the event of a fault, the driver is shown a dash warning. The fleet manager can log on through the Detroit Connect platform and decide if the truck needs immediate service. If service is needed, a detail of the next steps is presented on the screen.
Coming to market later this year and currently undergoing a pilot phase, Detroit Connect Direct is designed to feed to a back office customizable data on everything from a truck's location and performance to driver behavior and safety system performance.
"This type of information has a wide variety of application,"Krajewski says.
To help support the driver, Detroit Connect Wireless In-Cab Device Connection – also set to debut in late 2018 – will let the driver drop the hardware required of an ELD by beaming driver information via Bluetooth from a mobile device. The ELD application itself, Krajewski says, is collecting data and sending it to a desktop version. Should the Bluetooth connection break, that information is backed up and made available through Detroit Connect.
Krajewski says truck can be paired with any ELD app, adding that Daimler is working with multiple partners for initial rollout.