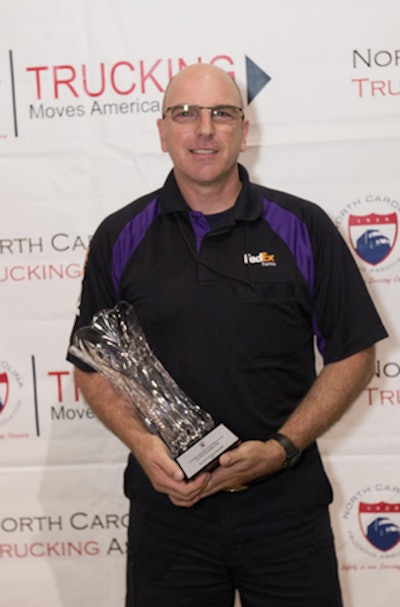 FedEx Express driver Michael Bills is North Carolina's trucking grand champion. Bills was awarded the title at the annual North Carolina Truck Driving Championship, held May 18-19 at Park Expo in Charlotte.
The competition was sponsored by the North Carolina Trucking Association and brought out over 170 truckers to test their skills against their colleagues.
Bills, from Fuquay-Varina, has been a trucker for 26 years and has spent the last three years with FedEx. He has driven over one million accident-free miles. He also won first place in the straight truck class.
John Hathcock, a driver for FedEx Ground, was awarded Rookie of the Year.
The winners were:
Grand Champion: Michael Bills, FedEx Express
Rookie of the Year: John Hathcock, FedEx Ground
Pre-Trip Inspection: David Rohman, FedEx Express
3-Axle: David Rohman, FedEx Express
4-Axle: Larry Wilson, Food Lion/DelHaize America
5-Axle: Basher Pierce, FedEx Freight
Sleeper Berth: Jimmy Whitley, FedEx Ground
Flatbed: Brian Walker, UPS
Step Van: Augustus Kern, FedEx Express
Straight Truck: Michael Bills, FedEx Express
Tanker: Andrew Davis, UPS
Twin Trailers: David Wagner, Old Dominion Freight Line
This article was written by Deanne Winslett, associate editor at Trucker's News, a partner publication of Hard Working Trucks.