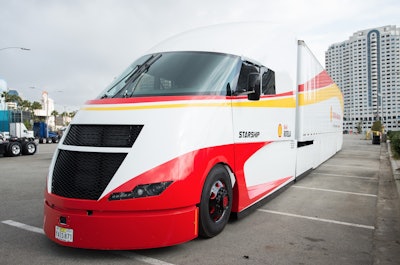 The Shell Starship, an aerodynamic Class 8 tractor-trailer designed to increase fuel efficiency while driving down emissions, has been attracting a lot of attention during its cross-country trip this week.
Hard Working Trucks caught up with the Starship caravan today as they left Hammond, L.A. on their way to Biloxi, Miss. The truck, which began its trip in San Diego on May 18, is scheduled to end its 2,361-mile journey Thursday night in Jacksonville, Fla.
"Things are going really well. Reactions have been great," said Megan Pino, Shell Rotella global brand manager and project lead for the Starship Initiative. "We've gotten lots of comments as we've been driving down the road listening to the CB, at the truck stops and at the rest areas that we stop at as well."
The Starship's aerodynamic features, designed by the AirFlow Truck Company, are hard to ignore. The truck's bullet-like cab constructed of carbon fiber looks like it will easily pierce through the toughest headwinds. Next up are the long skirts and the boat tail in the rear.
AirFlow Truck Company founder and President Robert 'Bob' Sliwa has had success in the past squeezing more MPGs out of his aerodynamic designs. The former truck driver got a record 13.4mpg in a coast-to-coast run in his Bullet Truck a few years ago.
Pino said that fuel efficiency data from Starship's run will be validated by the North American Council for Freight Efficiency following its arrival in Jacksonville. Data will be made available during a press conference on June 5.
The Starship left San Diego with a 39,000-lb. load of artificial reef material that will be used this summer off the Florida coast. In order to accurately measure freight ton efficiency, the truck had to haul a substantial load. The reef material was just icing on the cake.
"We wanted to do something with a purpose, not to just fill it with something heavy," Pino explained. "This is a perfect opportunity to load it and also do some good in the process."
Starship has been making trucker appreciation visits at Loves Travel Stops and rest areas along the I-10 corridor. The truck is expected to arrive at EverBank stadium Thursday in Jacksonville around 6 p.m.
So, what's next for Starship following its arrival in Jacksonville?
"We hope to continue to work on the truck to make additional improvements and do some additional testing," Pino said. "We hope to continue to keep the project going."
To learn more about Starship, check out the information below and visit Shell's website.
About Starship
The Starship Initiative is designed to explore the future of what's possible in truck design, fuel economy savings and CO2 reduction.
Aerodynamics:

Bespoke 100% hyper-aerodynamic carbon fiber Cab
Active Grill Shutters (active based on temperature to maximize aerodynamics and maximize efficiency)
Aerodynamic boat tail for streamlined air flow around truck and drag reduction

Efficiency:

Hybrid electric axle system for a power boost while climbing grades
Custom automatic tire inflation system for consistent tire pressure and optimal fuel economy
Downspeed axle configuration provides improved efficiency and pulling power
5000 Watt solar array charges and stores power for normal electrical components

Shell Technologies for Starship:

Utilizes full synthetic Shell Heavy Duty Engine Oil
Spirax S6 GXME 75W-80 transmission oil, Spirax S5 ADE 75W-85 differential oil and Spirax S6 GME 40 wheel hub oil for performance and protection