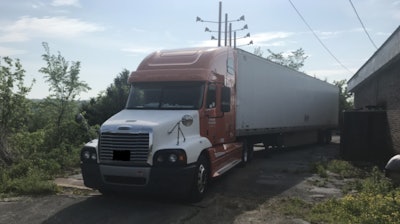 Federal and state law enforcement officials are turning to the public for help following a million-dollar truck heist in Tennessee.
According to the Giles County Sheriff's Department, a driver who had been hauling $965,000 worth of cancer drugs called law enforcement on Thursday to report that his rig had been stolen while he was inside the Pilot Truck Stop along Lewisburg Highway in Cornersville, about 50 miles south of Nashville.
Surveillance video shows a red Volvo semi pulling up behind a Freightliner that had been hauling 1,300 vials of the cancer drug Octagam. A man can be seen getting out of the Volvo, entering the Freightliner and then driving off onto I-65 south, according to law enforcement. The stolen truck was recovered later on Friday with all of its contents gone.
The Freightliner had been heading for Dothan, Ala. The Giles County Sheriff's Department released a photo of the stolen truck (shown above) hoping that it might prompt someone to come forward with more information. The FBI and the U.S. Department of Homeland Security are also investigating. The Giles County Sheriff's Department can be reached at 931-363-3505.