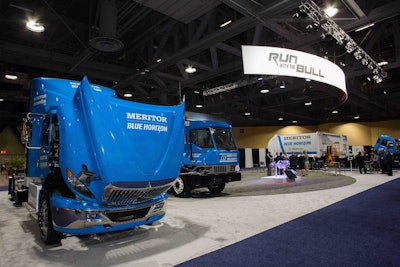 Meritor announced Blue Horizon this week, a new technology brand representing the company's emerging platform of advanced technologies centered on electric drivetrain, efficiency and connectivity systems.
Products offered under the new brand will include integrated electrified solutions for Class 4 – 8 commercial vehicles across multiple vocations, including pickup and delivery, drayage/terminal tractors, transit and school buses, as well as linehaul and other heavy-duty applications.
"Blue Horizon signifies our commitment to evolutionary and revolutionary solutions for commercial transportation,"said Jay Craig, CEO and president of Meritor. "With this new brand, we're looking forward to the future of electrified drivetrains and to more innovations in the years ahead."
Initially, Blue Horizon electric drivetrain systems will feature Meritor's integrated eCarrier that utilizes an electric motor inside the axle to power the vehicle, replacing a conventional mechanical engine with an electric motor integrated into the rear drive axle.
The eCarrier's power-dense design reduces cost and weight by eliminating the driveline and related drivetrain mounting components to free up space for batteries inside the frame rails for enhanced safety.
The eCarrier design is flexible for use with rigid and independent suspension axle platforms in single and tandem configurations.
Two-speed gearing works with a smaller, lighter-weight motor to deliver heavier load capability and operate in the motor's sweet spot for maximum efficiency.
Meritor's eCarrier will launch with the eAxle and eSuspension platforms to deliver power ranges of 150, 180 and 200 kW in each axle and peak power of 250 kW. Rounding out the electric axle lineup is an eCorner module for medium-duty, pickup and delivery, and bus applications.
Demonstrator vehicle testing is scheduled for this summer. Meritor's consolidation of advanced solutions under a single brand reflects more than 20 years of technology leadership focused on delivering high-tech drivetrain solutions for our global customers.
"Blue Horizon represents a future that's electric today and even more tomorrow," Craig said. "These new solutions will have the potential to transform the industry while also enhancing Meritor's value to OEMs and our standing as a leader in innovation and manufacturing."