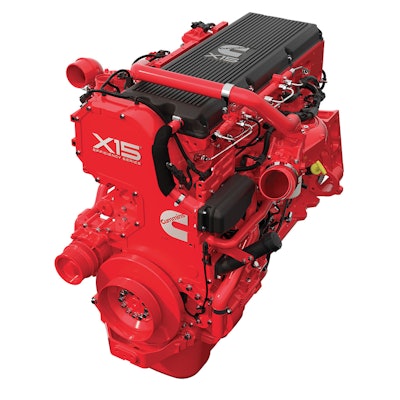 Cummins took the time recently to answer questions about their growing portfolio of engines (including the soon-to-be-launched X12 and the highly successful X15), electric powertrains and renewable natural gas. Special thanks to Mike Taylor, general manager of Cummins global power integration and Molly Yedinak, North American OEM truck business and market segment leader with Cummins Westport.
HWT: What excites you most about the Cummins Integrated Power portfolio?
Taylor: Cummins Integrated Power represents our portfolio of options available to the customer. Cummins, with its breadth and depth of knowledge, is well positioned to help customers make choices that move their business forward and help them meet their business objectives. With various fuel choices and features, Cummins won't push a single technology solution because that's the only thing we offer. We have options stemming from diesel to natural gas, and hybrid to electric, allowing us to provide the right solution at the right time to our customers. No one else has the experience to do that like we do.
HWT: Various reasons drive fleet acquisition, i.e., product cost, fuel efficiency, tax credits, maintenance requirements, pedigree, product reviews, emissions, etc. How can Cummins Integrated Power help in the critical decision making process?
Taylor: The Cummins Integrated Power portfolio provides customers with the power of choice. With optimized solutions across diesel, natural gas, and now hybrid and electric, Cummins can help customers select or design a powertrain solution that meets the needs of their operation and provides the performance they expect from Cummins.
HWT: How has customer response been thus far with the X12 and X15?
Taylor: The X12 has yet to be launched in the market. However, in various ride-and-drive opportunities with customers, we've seen a lot of excitement build for the product. The X12 is the lightest heavy-duty engine in North America. The engine weight of just 2,050 pounds was achieved by eliminating unnecessary mass without compromising performance. Delivering up to 500 hp (373 kW), the X12 has the highest power-to-weight ratio of any heavy-duty engine from 10 liters to 16 liters in size.
The X15 launched at the start of 2017 and has proven to be the most successful launch Cummins has had with a heavy-duty engine platform. In the first year, 94 percent of engines in service had yet to be touched for any service related activity. We've heard from numerous customers that they are experiencing better fuel economy with the X15 than they have with previous engine platforms. We're excited to watch the platform continue to perform for our customers.
HWT: Electric is intriguing, but considering higher upfront costs, diminished payload (owed to battery weight) and shorter range, can it really be that much of a competitor in Class 8? If so, how?
Taylor: Cummins believes that electrification has promise, but it may not be the right solution for everyone right now or in the immediate future. Cummins will bring its first fully electric product to the bus market in 2019, followed by the delivery market. These markets show more promise in the immediate future, as drive ranges are shorter and vehicles can easily return to a home base to recharge. Electrification in long-haul faces challenges today. Battery technology will need to advance to support long distances between charges. And today, about 90% of long-haul trucks on the road are powered by diesel – so the costs and time it would take to introduce a new technology and engineer it into vehicles means that it won't happen overnight.
HWT: Renewable natural gas is becoming more popular around the country, especially in California. Is Cummins seeing a greater demand for its natural gas engines in the Golden State or other states for that matter?
Yedinak: Renewable natural gas demand continues to grow around the country, including in California, as RNG is used to reduce corporate GHG reduction goals. When used with our new 0.02 NOx engines, the net result is moving goods in this country with engines operating 90% below federal exhaust emission laws.
HWT: Does Cummins suggest a certain mix of conventional and alt fuel powertrains to maximize profitability while meeting emissions goals?
Taylor: It all depends on what the customer wants to achieve. Cummins is in the best position to help customers pick the right solution. We've got experience across a broad range of on- and off-highway markets, which has provided us with the knowledge to recommend a solution that will work for each customer's unique situation.