Three truck stories making headlines on Monday: A truck loses its load of sewage in Connecticut, a drunk driver traveling the wrong way on an Indiana highway crashes into a semi and a would-be truck thief runs out of gas in Tulsa.
This morning in Farmington, Conn., a sewage truck traveling on the Route 6 ramp that joins I-84 east rolled down an embankment unleashing its pungent load along the way.
Thankfully, no injuries were reported, but Route 6 was closed as crews from the state Department of Energy and Environmental Protection responded. The waste was eventually recovered and transferred to another truck, according to nbcconnecticut.com.
#FARMINGTON: A truck carrying human waste rolled over down embankment. The Rt 6 ramp to 84E (x38 onramp) will be closed for at least the next couple hours. DEEP is on scene. #NBCCT pic.twitter.com/rLszfAmj4m

— Heidi Voight (@HeidiVoight) April 16, 2018
In Indianapolis on Sunday around 3:30 a.m., a driver suspected of drunk driving drove the wrong way for about a mile on I-70 before smashing his 2009 Hummer H2 head-on into a tractor-trailer, according to a press release from state police.
The driver of the Hummer, 26-year-old Moran Cuculisa Yener Oswaldo of Indianapolis was pulled from the wreckage by officers from the Hancock County Sheriff's Office.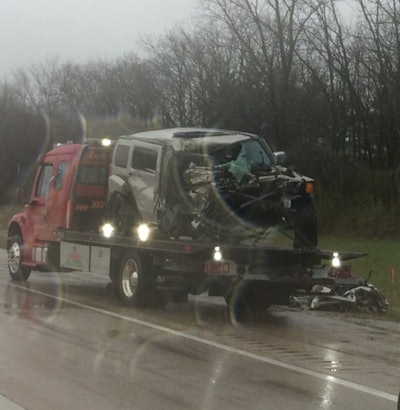 Oswaldo was transported to Eskenazi Hospital with minor injuries. A 29-year-old passenger in the Hummer, Angel Jesus Tzuy Pop, was hospitalized in very critical condition. The driver of the semi, 52-year-old Ricardo Duran of California, was not injured.
Oswaldo was arrested on the preliminary charge of operating a vehicle while intoxicated causing serious bodily injury.
This morning in Tulsa, a would-be truck thief didn't get far after stealing a truck that was low on gas.
Police report that the short pursuit started not long after the male suspect took a pickup from a car lot and was spotted by police who promptly gave chase. When the vehicle sputtered to a standstill near the intersection of I-44 and Lewis Street, police moved in and arrested the man, according to newson6.com.